Information updated April 26, 2013.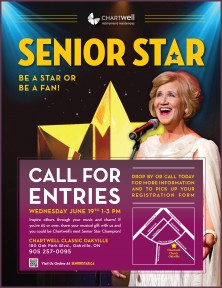 If you are 65 or over and have musical talent don't miss this opportunity to inspire others through your music and charm! Would you like to share your musical gifts?  If so you could be Chartwell's next "Senior Star" Champion.
Each contestant can perform one song or musical arrangement. Contestants can either be musicians, i.e. play a musical instrument,  or singers requiring a backing track or musical accompanist.
The first tier of this competition is at the local residence level. The top three performers are submitted to their head office panel of judges who then select the top ten from all the residences across Canada. The top ten finalists will then go on to perform at the National competition which will be held in the Fall at Niagara Falls.
Chartwell are looking for new talent to perform in this year's competition and would welcome CARP members as performers.
Judges for this year's competition at the Chartwell Classic Residence in Oakville include Oakville Mayor Rob Burton and Scott Apted, Manager of Gear Music in Oakville. The MC will be Ken Coulter, Theatre Manager of the Oakville Centre for the Performing Arts.
There will be:
Professional Videographer
Professional Sound technician
Professional Stage Lighting
A well renowned accompanist
Lots of great food prepared on site by their talented chefs
Door prizes
A ballot draw to win a cruise for two to either the Caribbean or Alaska
This is Chartwell's largest event and it will be televised nationally. This year is shaping up to be their best yet.
Drop by the Chartwell Classic Retirement Residence at 180 Oak Park Blvd in Oakville for more information……and to pick up your registration form! Or give them a call at 905 257 0095. You can also click here to see the registration form.
Don't delay as entries must be received by midnight on May 31st. The first qualification round will be held on Wednesday June 19th from 1.00pm to 3.00pm.