Information posted April 24, 2013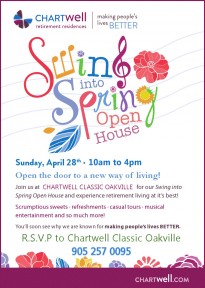 Chartwell Classic Retirement Residence in Oakville invites you to drop in to their "Swing into Spring" Open House from 10.00am to 4.00pm this coming Sunday, April 28th. They are located at 180 Oak Park Blvd in Oakville.
Chartwell Classic are a major supporter of Halton Chapter and we encourage you to visit them and see for yourself on a casual tour of this excellent facility that they really do offer  retirement living at it's best.
You will also be treated to refreshments, scrumptious sweets, a Chartwell speciality, musical entertainment and so much more.
Please RSVP to 905 257 0095. Drop in and see why they are known for making people's lives better