"Wonderful", "Engaging","Inspiring". These were just some of the sentiments in abundant supply from CARP Chapter members who attended our "gathering of the clan" in Toronto this year.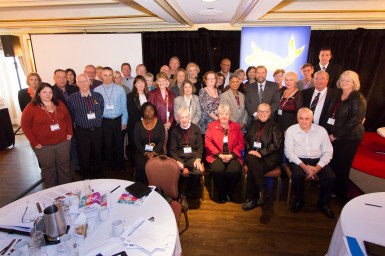 The CARP-sponsored ZoomerLife Conference, got things started with an excellent roster of presenters who shared their insights and expertise on health, wellness and longevity.  While there were many highlights in the day, one of the most noteworthy was the video interview Moses conducted with 99 year old Holocaust survivor Maestro Leo Spellman, who shared his secrets for longevity—"It's because of music that I am alive".  Following the interview, Paul Hoffert and Moshe Hammer came on stage to perform a segment of Maestro Spellman's long-lost Rhapsody 1939-1945.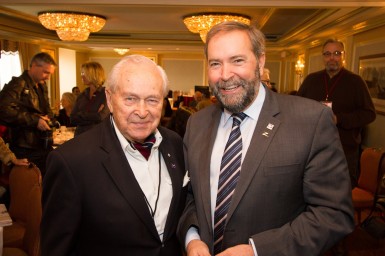 The next day CARP's AGM was attended by the largest ever number of Chapter Chairs and Board members with country-wide representation from St. John's Newfoundland to Victoria B.C.
The special guest speaker this year was The Hon. Thomas Mulcair, Leader of the Official Opposition.  Introduced by Susan Eng, Mr. Mulcair demonstrated from the outset that he understood the leading role CARP's Advocacy plays in representing the needs and interests of Canadians as we age on matters ranging from pension reform, the needs of caregivers and a pharmacare strategy.  Mr. Mulcair received his largest ovation when he announced that under his government he would reinstate 65 as the age of eligibility for OAS.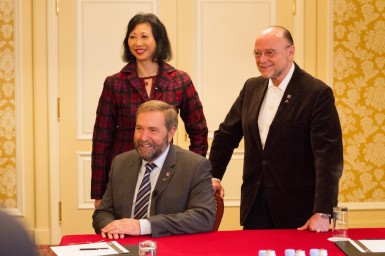 The day's activities included presentations on member benefits from some of CARP's new Affinity partners; David Cravit of ZoomerMedia and Gail Hinchliffe, the Chair of CARP's Advisory Board gave stimulating presentations on the social and economic trends facing an aging population.  Chapter Chairs Ed Williams, Gwen Kavanagh, Gary Butler, Kim Rickter and BC Representative April Lewis shared their chapter development and community outreach experiences, ideas and "can do" attitude that inspired everyone in the room.  Anthony Quinn, Manager of Community Development, introduced the Terry Little Memorial Award for CARP members, presenting the award posthumously to Terry Little for his outstanding work for the CARP Chapter in Brantford Ontario.  Current Brantford Chair, Andy Woodburn received the award on Terry's behalf.  The Community Development session finished with Susan Eng and Anne Gravel of CARP Advocacy conducting an informative workshop on developing Effective Media Relations at the community level.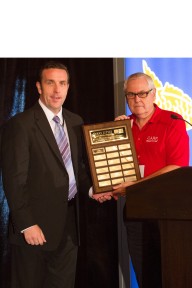 CARP President, Moses Znaimer, closed out the day's agenda with a compelling overview of the fundamental role ZoomerMedia, with its television, radio, internet and magazine divisions, plays in supporting and advancing CARP's mission and New Vision of Aging.
The week's events concluded with the spectacular 5th annual Zoomer Show, sponsored by SunLife Financial.  Thousands of CARP members and Zoomers attended to take in the experience that included entertainment, fashion shows, exercise demonstrations and presentations. CARP and Zoomer Magazine's booths were well attended and signed up hundreds of new members and subscribers.
The ZoomerLife Conference, CARP's Annual General Meeting and the weekend Zoomer Show presented non-stop affirmation that CARP is in Moses' terms "the new Cool".
Related