Information posted March 10, 2013
Members and friends who came to our February Community meetings in Milton and Burlington learned how to discover their family history. Approximately 40 people joined us at Milton and despite horrible winter weather more than double this number enjoyed our Burlington meeting. Our meetings featured Rick Roberts of Globalgenealogy.com. Rick gave an informative and entertaining presentation on how to research family history.
Rick explained how to begin and how by following a few key steps you can optimize your research and be able to discover and share your personal roots.
Rick's presentation was entitled:
Beginning a Family History Project: 12 Steps to Success
Knowing where to begin a family history project can be confusing and intimidating. By following a few key steps, you will begin your research in a beneficial way, be well organized, and position yourself to enjoy discovering and sharing your personal roots.
That Rick is an expert on this subject soon became apparent in his presentation. He first became interested in family history on summer vacations on his grandparents' farm where he would sort through family pictures, documents and artifacts while listening to his grandmother's well-worn family stories. This encouraged him to dig deeper and in doing so he discovered a wealth of previously unknown information.
From these early beginnings and his passion to learn more he has proven that by following a few key steps researching family roots can be a rewarding experience. These steps are summarized below:
1. Start with yourself and work outwards. Write down what you know. This should be based on facts.
2. Talk to everyone around you. Gather all the knowldge you can from family members and anyone who knew your family. Ask open questions. Try to record the discussion so that this information is not lost or misinterpreted later.
3. Gather family documents and record the details.
4. Choose your approach and strategy. Determine how you will go about conducting and organizing your research.
5. Join a genealogical society. You will meet like minded people and benefit from their knowledge. There are National and Provincial societies and in all probability there is a local branch in your area.
6. Visit and use libraries and archives. Cemetery records are an example of archives.
7. Follow the rules. When you go into a library for example determine what's there and how they can help. Do not put their documents at risk.
8. Don't wait for someone else to do it.
9. Not everything is on line but a lot is. The internet can be used to find a lot of information. If it's not there it doesn't mean it doesn't exist, it's just not on line yet.
10. Expect to discover family secrets. Think about how you will use such unexpected information.
11. Give credit where credit is due. Document where you get the information from.
12. Record and share your findings. Include the social side of your history as this makes it more personal and interesting.
The above is only a brief outline of Rick's presentation. If you would like more information please visit www.globalgenealogy.com. This website is packed with information you will find invaluable for researching family history.
Sponsors are a very important part of our meetings and we wish to thank the following who sponsored us at our February meetings.
SNAPSHOT SOLUTIONS: specialize in helping families with their photographs so they can preserve their special memories. They help you get started and show you how to organize those boxes of photos? Their services include: Print and digital photo organizing; Digital Photo books and gifts; Photo and document backup and archiving; Slide, Home movie and video conversion to DVD; Scanning and Cloud Storage. Unfortunately Snapshot Solutions could not be with us for our Burlington meeting but will attend a future meeting to explain their services.
Halton/Peel Chapter of the Ontario Genealogical Society: For over 50 years, The Ontario Genealogical Society has been working to encourage, bring together and assist people interested in the pursuit of family history.They do this with the hard work of many volunteers who work on heritage projects and help uphold genealogical standards.
ListenUP Canada were available to discuss hearing related issues.
We were also pleased to welcome the following additional sponsor to our Burlington meeting:
Storylines, Capturing Stories & Connecting Generations: Storylines provides Memoir, Creative Writing and Life Review Workshops.
As usual the final part of the evening was the draws. Shown below are this months winners with their prizes.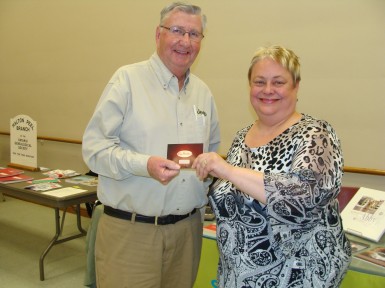 And last but not least here is agroup photograph of the Burlington winners.