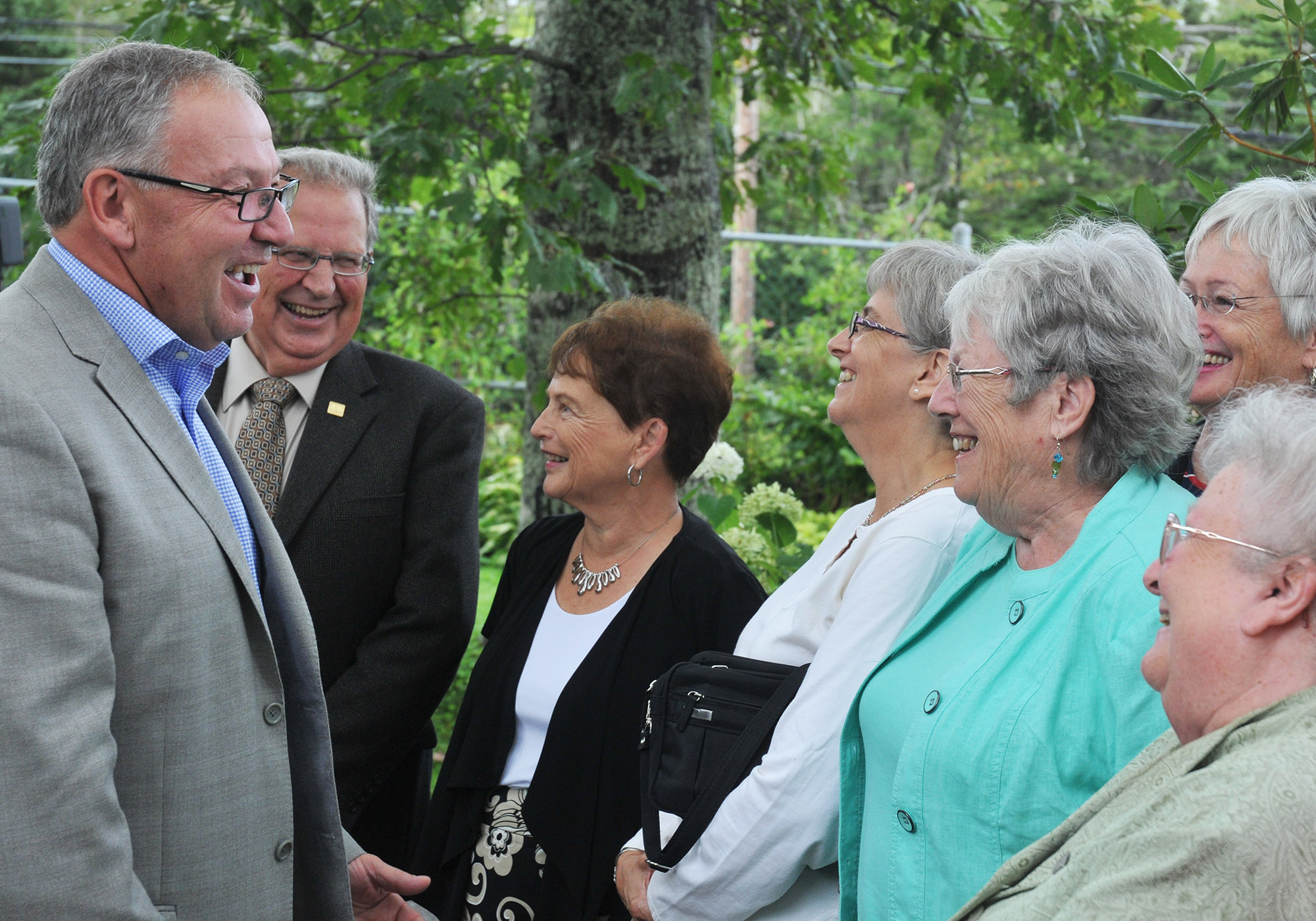 There was Progressive Conservative Leader Jamie Baillie on Friday, at the house of Halifax senior citizen Judith Wright to highlight platform planks for seniors.
Premier Darrell Dexter has had tea with a seniors group and has made a steady stream of grey-hued announcements in recent weeks.
A little earlier in the campaign, Liberal Leader Stephen McNeil had a little turn on the dance floor with Eleanor Pynn, 83, at a Truro nursing home.
This article was published by The Chronicle Herald on September  22nd, 2013.  To see this article and other related articles on their website, please click here
The party leaders and candidates will want to hit just about every demographic in the province during the campaign, but there is a dominant trend in the population.
The province already has the highest proportion of seniors in the country at 17 per cent, according to Statistics Canada. Aging baby boomers are going to push the figure to one in four Nova Scotians in 10 to 15 years, said Dexter.
The electorate now includes 50,000 more voters aged 65 or older compared with two decades ago. Candidates in this campaign are also going to find fewer voters in rural parts of the province and more in Halifax Regional Municipality and the towns and counties within about an hour's drive from the capital.
Those trends aren't new and will have an impact on campaign policy, communication and strategy, said party insiders.
The parties have to offer senior-specific policies, but the platforms shouldn't tilt too far that way, said a Bridgewater senior.
"I've got grandchildren, you know, and I'm concerned about the future for them as well, so I want to hear things that are going to benefit them," said Jean Marshall, 82.
The parties say they understand that they have to address not only how to take care of seniors in the short term, but also how to build the economy to ensure the support is there down the road.
"I'm concerned about my daughter," Paula Simon, co-chairwoman of election planning for the NDP.
"My daughter would be concerned about her grandparents, and her grandparents are concerned about her.
"You just don't target one group because all of these different sectors are concerned about their family members."
That may be true, but it is the older ones putting politicians in office.
Elections Nova Scotia records from the last election showed about 72 per cent of voters age 55 or older voted, while it was 60 per cent in the 45-to-54 age group. Well under half of eligible voters younger than that cast a ballot.
"We have been trying to impress on politicians the fact that they really need to talk to people who actually vote," said Bill VanGorder, president of the Nova Scotia chapter of the Canadian Association of Retired Persons.
Liberal Party president John Gillis said there has also got to be policies to help young people get an education and become economic drivers to help rein in out-migration and cover health-care costs.
As the population shifts to Halifax Regional Municipality and surrounding areas from rural Nova Scotia — a trend reflected in the new electoral map with two more seats in Halifax and three fewer elsewhere — Gillis said the shift, and the prevalence of information, mean parties can't necessarily count on the traditional support they saw years ago.
"You could go down the street and (say), 'Those folks are Conservative, and those folks are Liberal, and that's the way it is, and that's the way it always has been,'" said Gillis, son of former longtime Antigonish MLA Bill Gillis.
"There are obviously ranges of this, but alignments are much weaker than they used to be."
The Liberals and Tories have hammered the government on job losses in rural parts of the province as they try to reclaim seats that helped the NDP win power in 2009.
"It's about trying to have some kind of rural strategy that will allow our rural areas to survive," said Tory party president Janet Fryday Dorey.
The declining numbers in rural Nova Scotia and increasing number of seniors shouldn't surprise any of the parties, said Cape Breton University political scientist David Johnson.
"There really hasn't been much of a change over two decades," Johnson said.
"With the youth out-migration that's been ongoing for decades and decades, we've always had more of a population that's more heavily weighted toward seniors and the elderly, and we don't get the immigration coming in that other provinces get."
The parties say changing demographics and technology affect how they are contacting voters. They can't stop the traditional phone calls brochures at the door, but there is also the necessity for more communication online and through social media.