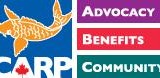 FOR IMMEDIATE RELEASE
December 5, 2013
Toronto, ON: In the run-up to the federal-provincial Finance Ministers' meeting next weekend, CARP members will be watching to see if the ministers will once again defer any action to increase CPP, hiding behind arguments that just don't hold water. Their recent public pronouncements and responses to CARP Chapters are disappointing and CARP members see their refusal to act as evidence of ideological bias.
Finance ministers from all the provinces and territories will meet with federal Finance Minister Jim Flaherty and Minister of State for Finance, Kevin Sorenson on December 15 and 16 and CPP expansion is expected to be on the agenda, having been deferred repeatedly at their semi-annual meetings since it was first proposed by them in June 2010.
35 CARP chapters across the country wrote to their respective Finance ministers and either got no reply or got a reply similar to that reported in the media that requiring employers to pay higher CPP premiums now for employees to receive higher benefits in retirement would be bad for the economy.
That excuse for inaction is roundly rejected by CARP members and is discredited by historical experience: "CPP premium rates were gradually increased from 1997 to 2003, from 5.8% to the current level of 9.9%. The national employment rate rose steadily during that period, with only a small slip in recessionary 2001."
"If the ministers are sincere about helping people save for their retirement, then they should act now to increase the CPP. Pension experts, bank economists and those with lived experience like CARP members agree that a modest increase in CPP contributions for a future increase in benefits is the right solution to address the savings gap and prevent retirement insecurity.
 "CARP members are not buying the excuse that the economy is too soft for a CPP increase now. They know that any increase can be phased in but the political decision must be made now for any change to happen at all. So they can only conclude that the refusal to act is due to ideological bias.
"CARP members are waiting to hear if Canada's Finance ministers will announce on December 16th that they have agreed to act to increase the CPP." said Susan Eng, VP, Advocacy for CARP.
CARP issued an Open Letter calling on the Finance Ministers to increase the CPP concurrent with letters from CARP Chapters across the country to their respective Finance ministers.
CARP members polled on November 15, 2013 identify ideological bias as the major reason why CPP enhancement is not moving ahead and two thirds disagree with the Finance Minister that the economy is too weak to permit CPP enhancement (63%).
A poll of all Canadians agreed that CPP had to be increased and Boomers (55 to 64) are especially likely to agree the twenty five percent CPP benefit is "too little" (60%).
CARP is a national, non-partisan, non-profit organization committed to advocating for a New Vision of Aging for Canada, social change that will bring financial security, equitable access to health care and freedom from discrimination. CARP seeks to ensure that the marketplace serves the needs and expectations of our generation and provides value-added benefits, products and services to our members. Through our network of chapters across Canada, CARP is dedicated to building a sense of community and shared values among our members in support of CARP's mission.
For further information, please contact:
Sarah Park   416.607.2471
Media Relations, Policy Researcher and Coordinator
[email protected]
Michael Nicin   416.607.2479
Director of Policy
[email protected]
Siobhan MacLean 416.607.2475
Media and Communications Coordinator
[email protected]