CARP Mississauga Director Peter M. Wong was interviewed yesterday by Peter Armstrong, Economic Affairs Reporter for CBC Radio about the impact of low interest rates on older Canadians. Bank of Canada Governor Stephen Poloz, for whom Mr. Wong worked at Export Development Canada in 2010, announced that the Bank of Canada was not ruling out an interest rate cut in the future.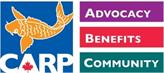 While much of the discussion in the press has been about how low interest rates help families with mortgages and businesses with debt, CBCs Peter Armstrong was interested in how low interest rates affect older Canadians. Peter Wong voiced the concern of many older Canadians nearing retirement that low interest rates diminishes the income from safer, interest bearing investments as well as reducing the amount of money that annuities pay out.
Peter M. Wong also said that low interest rates force older Canadians to put their money in riskier investments, such as equities and real estate, which may not be a good strategy for those close to retirement. However, if the return on fixed income investments is just 1 or 2 percent, older Canadians will seek higher yields from riskier investments just to avoid using capital to fund their expenses let alone earn enough income to cover expenses. Furthermore, a correction or crash in either the stock or real estate markets would set retirement portfolios and security back even further.
Mr. Wong related how his parents were able to convert some of their savings into life annuities when interest rates were 7 to 10% which offered a decent cash flow that would not be possible today. As older Canadian reach the age of 70, many will be forced to convert LIRAs and RSPs into annuities or pay heavy tax penalties. Many are waiting for rates to increase so they can lock in annuities at a more favourable and sustainable cash flow.
Follow the link to the CBC website to hear the interview. http://www.cbc.ca/news/business/low-interest-rates-come-with-high-cost-for-savers-retirees-1.2612567
Peter M. Wong is President and Co-Owner of Cruise Holidays | Luxury Travel Boutique, a Mississauga, Etobicoke, Brampton, Toronto area based cruise travel agency serving clients anywhere in Canada and the USA focused on river and ocean cruises, luxury resort and hotels, custom tours, beach vacations and specialty travel for groups and individuals as well as accessible travel for persons with physical disabilities.