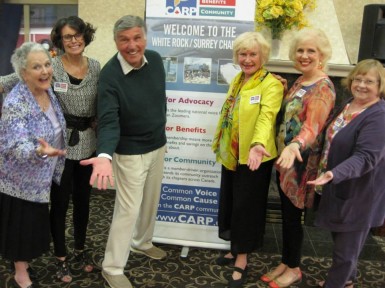 Your White Rock/Surrey CARP chapter was delighted to host Graham Kerr, the Galloping Gourmet (and his wife Treena) as part of our MY LIFE series. Pictured with him in photo are his beloved wife of 59 years, Treena, Denice Thompson (Events Director), Graham Kerr, Ramona Kaptyn (Chair), April Lewis (Communications Director) and Pattie Petrala, (Secretary).
Graham Kerr….you remember him as the first television celebrity chef in the 60s and 70s.
At age 80, he is still going strong, travelling and writing books and sharing his love of all things culinary. Initially in his career, food was all about delighting but now nutritious comes first. Always continuing to delight though.
He prefers to eat healthy food but never denies himself the foods he loves. He tells us to go ahead and have that ice cream but perhaps only one scoop buried under plump, juicy berries.
Instead of bacon and eggs, why not crumble one strip of bacon over your favourite salad.
Enjoy the sour cream but give Greek yogurt a try as you may fall in love with it.
He has a thing for acronyms and his latest is EGGS.
E stands for Eatingyes we all must do it to survive but it is in the way we eat, that is important. And that includes choosing what we eat and how we prepare it. Cooking is a loving dance, a pas de deux created with his two hands.
G stands for Growingthe food. Realistically, that might only include a few sprigs of basil in a patio pot or a garden full of potatoes, tomatoes and spinach. There is nothing more satisfying that eating something you have grown yourself.
G stands for Gathering as in getting together with friends or family or the person you love. It is one thing to painstakingly prepare and/or grow some of the food, but it takes it to a whole new level when you are sitting at a table with someone you care about.
S stands for Sharingthe best part of the entire eating experience. What a joyful feeling it is when you cook for someone who is enjoying your efforts and utterly consumed (pun intended) by the experience.
What a wonderful man! What a fabulous evening!