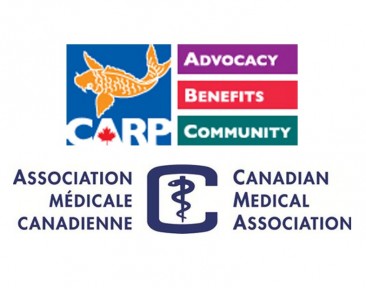 Leading up to the June 30, 2014 by-elections, CARP and the Canadian Medical Association (CMA) partnered together on a Seniors Care Challenge. The challenge asked all candidates in the four by-elections, the Ontario ridings of Trinity-Spadina and Scarborough-Agincourt and the Alberta ridings of MacLeod and Fort McMurray-Athabasca, to endorse or reject 12 specific elements of a pan-Canadian seniors strategy. The 12 specific elements included:
Federal role in setting standards and funding
Pharmacare to ensure affordable medication regardless of postal code
Wait time benchmarks for home care and long term care
Timely access to palliative care
National Seniors' Care Strategy with funding
Caregiver support – financial, training and respite
National Dementia Care Strategy
Immediate national conversation on end of life care, choices, rights
Tax breaks for long term care savings vehicle
Integrated continuum of care
Improved pension system
Federal infrastructure funding for continuing care
The Candidate Responses
The majority of the candidates responded to the CMA-CARP Seniors Care Challenge, but only two of the three major parties committed to a National Seniors Care Strategy. View each of the candidate's response to 12 elements.
CARP members consistently poll health care as their top priority. CARP members are among Canada's most politically engaged voters. In the 2011 federal election, 64% of those casting ballots were over the age of 55. With the upcoming 2015 federal election, CARP members will be watching close to see how parties prioritize seniors care.
CMA-CARP Challenge spotted in the media
Both CMA and CARP issues news releases about the Seniors Care Challenge, which was covered in The Hill Times, a newspaper read mainly by members of the Parliament, politicians, government officials, and other politically engaged individuals. Both CMA and CARP (@CARPadvocacy) tweeted about the challenge, which was retweeted by many others. Additionally, CMA released posters and ads that went into local papers, such as the Scarborough Mirror, City Centre Mirror, High River Times Okotoks Western Wheel, and Fort McMurray Connect.
Read CARP's News Release on CMA-CARP's challenge to all the by-election candidates.
Read CARP's News Release on the candidate responses to CMA-CARP's challenge.
View the candidate responses to the 12 specific elements of the pan-Canadian seniors strategy.
Read The Hill Times article covering the challenge.
View samples of CMA's posters and ads promoting the joint challenge below here: