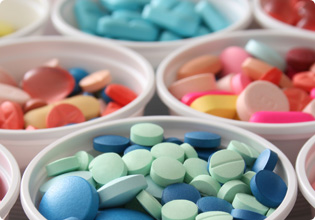 Many of us share the misconception that over-the-counter (OTC) drugs are generally safe to use, because they are easily accessible and widely available. McNeil Consumer Healthcare, Johnson & Johnson Inc., the makers of TYLENOL® and other OTC drugs, has launched, Get Relief Responsibly®, a campaign to educate Canadians about proper acetaminophen use. As the active ingredient in more than 450 OTC and prescription medicines in Canada, acetaminophen is one of the most commonly used medicines. It is used mostly to provide relief for cold and flu symptoms, headaches, muscle aches and other pain relief. Acetaminophen is safe when used as directed, but if you take too much, it could harm your liver.
As Canadians age and more are faced with managing multiple medications, they will need help and support to avoid drug therapy problems, adverse drug reactions, improper dosing, non-compliance and drug interactions. The Get Relief Responsibly® web-site provides informative and interactive resources on proper dosage, use, and how to properly read the medicine label, including a medicine checker tool that helps to determine if specific medicines contain acetaminophen. The campaign also provides educational materials to pharmacists across Canada on how to best inform their customers of safe practices when taking medications, recognizing that pharmacists, as medication experts, are well positioned to help Canadians to better manage their medication.
Is acetaminophen safe?
Acetaminophen is safe when used as directed. Some people accidentally exceed the recommended dose when taking multiple products at the same time, because they don't realize their medicines contain acetaminophen or they didn't read and follow the dosing instructions. Get Relief Responsibly® emphasizes the importance of reading and following medicine label instructions, advising to only take 1 medicine containing acetaminophen at a time.
How do I know if there acetaminophen in my medicine?
To find out if your medicine contains acetaminophen you can start by reading the list of ingredients on the package of each OTC medicine or the patient information leaflet that comes with each prescription product. Look under "Medicinal Ingredient(s)" for acetaminophen. It is also good practice to ask a healthcare provider or pharmacist if the medicine taken contains acetaminophen.
Can I take acetaminophen?
Any questions you might have regarding the proper use of medications, or possible side-effects should be discussed with a pharmacist or medical professional. Acetaminophen should not be taken by people who are allergic to it. It is also advised that people should not use more than one medication containing acetaminophen at the same time, whether OTC or prescription. Similarly, the maximum daily dose as indicated in the medication label should not be exceeded. If you're not sure if a medicine contains acetaminophen or whether it's safe for you to use, ask your healthcare provider or a pharmacist.
What are the effects of taking too much acetaminophen?
If you think you've taken too much acetaminophen or in the case of overdose, call your healthcare provider or a local Poison Control Centre immediately. Emergency numbers can be found in the telephone directory or call 911. It is advised that the local Poison Control Center is saved as a contact in home and cell phonebooks. You can visit www.capcc.ca to find your local numbers.
Even if you may feel fine and don't notice any symptoms, receiving medical attention is critical for adults and children. Sometimes, symptoms associated with acetaminophen-related overdose don't appear right away. Symptoms of liver damage can take time to become noticeable since they can start off mild or be mistaken for some other illness. Some of the early symptoms of liver damage may include: increased sweating, nausea, vomiting, stomach pain and loss of appetite. In some instances, symptoms can even go away all together, but this doesn't mean that there hasn't been liver damage.
This is particularly important since many aging adults are on multiple medications at once for various conditions, and on average take more than three prescription medications as was highlighted in CARP's Prescription Drug Poll Report. All OTC medications, including non-steroidal anti-inflammatory drugs (NSAIDs) such as ASA, ibuprofen, and naproxen, have benefits and risks. It is important for all, and especially those who are using different types of medications to manage chronic conditions, to understand the dangers and use the tools to enhance safety of their medications.
Click here to find out more about the Get Relief Responsibly campaign
Click here to view CARP Prescription Drug Poll Report
Click here to read Sustainable Solutions Report: A Focus on Pharmacist Medication Reviews
January 23, 2015