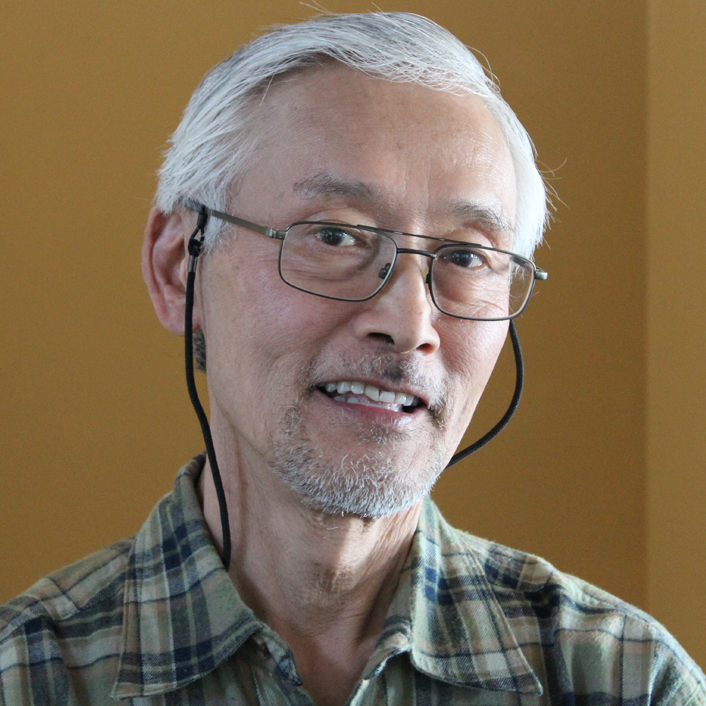 Peter Minaki – A Celebration of  Life
1941 – 2015
Peter's parents emigrated from Japan and after a stop in Hawaii, they settled in Pitt Meadows, British Columbia. Mr. Minaki owned a berry farm and made a good living from his crops. Peter (Shuji) Minaki was born in Vancouver on June 8, 1941, the third child of a family of 8 children (however, two of these children died in infancy).
In June 1942, by a decree of the Canadian government, the Japanese in BC had their property expropriated because they were considered to be a threat to our security. They were allowed to keep only a few possessions and photos, and they were dispatched to the interior regions of the country. The Minaki family first stopped in Portage La Prairie and then were sent to Geraldton in northern Ontario to live in camps. The men were separated from their wives and their children.
After the war, in 1946, Mr. Minaki managed to gather his whole family under one roof. Mrs. Minaki gave birth to several more children, but after the last birth around 1949 she became ill. She was hospitalized for 25 years in a psychiatric hospital without seeing her children and was hosted for 27 years in a residence for elderly people. She died without having recovered her faculties in 2001. When she was hospitalized, the children were placed in foster care in Geraldton, Thunder Bay and Toronto, predominantly in Japanese families. The three oldest, including Peter (Shuji), went to live with a Mr. and Mrs. Ted Sakamoto in Geraldton, Ontario.
After a while, their father was able to move into a modest house with his three oldest children, Shigeo, Atsuko and Peter (Shuji), but died of stomach cancer in 1953. The children were then taken into other foster homes and Peter (Shuji) was received back with open arms by the Sakamotos and was (unofficialy) adopted as their child, where he had a loving and stable home. Peter (Shuji) was a serious and responsible child. He was actively involved in the air cadets, Scouts, the curling club and as a choirboy of the Anglican Church. He managed to successfully graduate from grade 13.
At the age of 17 he had to leave to find work. He worked for a year on the pipeline in Longlac, Ontario and then decided to enlist in the Canadian Forces at the rank of private in the corps of artillerymen. A year later he joined the Signal Corps of the army, aspiring to become an officer. He served for 9 years at CFB Shilo, Manitoba, CFB Petawawa, Ontario, with the United Nations in Cyprus, with NATO in Germany, and at the the Canadian Armed Forces School of Electrical and Mechanical Engineering and Communications in Kingston.
In 1968, he met Denise in Iserlhon, Germany during an evening with friends in the military. A year later they were married and before returning to Canada they made trips to Palma de Mallorca, Paris, London, Luxembourg, Hamburg, skiing in Switzerland and Austria and a tour of Italy.
Peter decided to return to Canada in 1969 at the age of 29 to study Electrical Engineering at Queens University in Kingston. He graduated in 1974 as an electrical engineer . He worked at RCA in Ste-Anne de Bellevue, Quebec, participating in the construction of electronic controls the for the Space Arm; at Amplitrol Electronics Ltd in Candiac, Quebec on high security alarm systems; at Paramax in Mount Royal developing electronic components for the Canadian navy frigates; and then for 25 years at Ericsson in Montreal and in Mississauga, responsible for project management, business development and government relations.
With his responsibilities at Ericsson he became a globe trotter, frequently traveling to Sweden, the Netherlands, Phoenix, Dallas, Vancouver, Hawaii, Mexico, Ottawa, Washington, Ireland, and Montreal.
Peter was actively involved in several working groups with the Radio Advisory Board of Canada, the Canadian Wireless Telecommunications Association, and Electro-Federation Canada. For one year he led a working committee on standards for Electric Mobility Canada, after which he received recognition for excellent work and outstanding service.
After his retirement he moved to Haliburton, and for several years continued to be an independent consultant for Ericsson on government affairs. He also maintained several personal interests including Canadian military history, economics, sport fishing and all electronic communications, including cell phones.
Peter was a mild, patient, tolerant, intelligent, quiet, respectful, helpful, polite, hard working and meticulous man with multiple talents working with his hands and in horticulture. He was a loving and respectful life partner of Denise, father to Simon (Benji) and grandfather to Philip and Ann. He was a highly responsible employee and a committed community volunteer.
During his retirement in Haliburton, Peter quickly fell in love with the area, it's communities and it's people, as well as with it's beautiful lakes where he loved to spend his idle time fishing. Peter spent all of his weekends doing this on Redstone Lake where his very good friend Aline owned a cottage, and he made many other good friends around the lake. When Peter expressed a desire to give something more back to the community that he enjoyed so much, Aline suggested that he check into the new CARP Chapter that was just forming in Haliburton. The rest, as they say, is History!
Peter immersed himself in volunteering as Vice Chair for the local CARP Chapter in this community along with any other organization that asked for his help. He even reached out to the folks in Muskoka when they made it known that they would like to start a CARP Chapter. He willingly shared his vast knowledge with them to help them on their way.
Peter passed away on July 19, 2015.
He will be sadly missed by the many, many people whose lives he touched, not only here in Haliburton County, but throughout his illustrious career and active life, before we ever met him.
Awards
 In 1958 Peter received recognition from the Chief Scout of Canada as a worthy member of the great Scout brotherhood
Peter received military medals for his service to the UN Treaty Organization and NATO
In 2011, he received a plaque from the Radio Advisory Board of Canada in recognition of excellent work and outstanding service to Radio and Spectrum Management of Canada