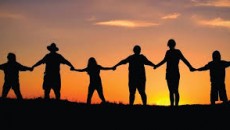 When the first of the baby boomers reached the age of 65 in 2011 it began an aging phenomenon that will continue over the next decade and a half.  Otherwise called 'population aging', government and other sources indicate that the impact will create social and economic challenges never before seen as also new opportunities to become more age friendly benefiting all ages and abilities for future generations.
HOW DO WE BEGIN to understand how population aging will impact us in our own community and how do we prepare?
In Fall 2015, the city of Brockville will officially join a vast network of communities across the country and work toward developing our own unique plan to achieve age-friendliness through the Age Friendly Communities initiative, a designation by the World Health Organization.
While each community develops there own unique approach to achieving age-friendliness, the program is universally based on common values and mandates focus on eight major key elements.
WHO DECIDES HOW BROCKVILLE BECOMES MORE AGE FRIENDLY?
The Age-Friendly initiative is a community-led initiative supported by municipal government.  The project was initiated by the Brockville, Thousand Islands CARP chapter receiving municipal support in December 2013.  In June 2015 we received provincial support to develop phase 1 with a $35,000 grant from the Ontario Seniors Secretariat.
WE NEED YOUR TALENT, EXPERIENCE AND KNOWLEDGE to help us become an age-friendly community that:                
Recognizes the wide range of capacities and resources among older people
Anticipates and responds flexibly to aging-related needs and preferences
Respects decisions and lifestyle choice of older adults
Supports the older adults who are most vulnerable
Promotes the participation of older adults and encourage their contributions to all aspects of community life.
A designated website will up by October 1st, 2015 that will include all information and the various ways to get involved.  Please note that we are also considering additional communication methods particularly for those who are not linked to technology.
CARP Brockville and the 1000 Islands is a registered not-for-profit organization, around 1,000 members locally with a priority of connecting with and engaging members as to the issues facing our aging population.  Please support our Brockville chapter by becoming a member for $14.95/year or $29.95 /year which includes the monthly issue of Zoomer Magazine.   All funds raised through our chapter goes to supporting local, like-minded organizations and community initiatives.  SIGN UP TO BE A MEMBER BY CLICKING HERE  (dont forget to select the 'Brockville, Thousand Islands Chapter' in the teal colored box beside first and last name).
If you have questions, comments or would like to be added to our volunteer list please email:  Dawn Edgley, Age Friendly Brockville: [email protected]