Community Connections by Ross Mayot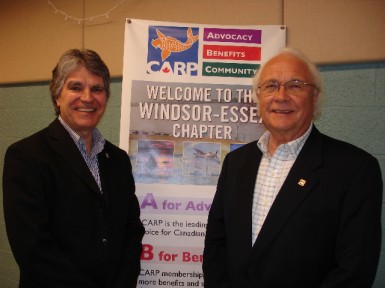 If you've had a quiet, uneventful, somewhat boring summer, then you haven't been involved in any of CARP's Chapters. If you were, not only would you would have been busy organizing events and doing good work in your community, but also meeting new friends and enjoying the always present camaraderie at Chapter social gatherings and outings. Here are a few highlights.
The Brockville-Thousand Islands Chapter, under the leadership of Dawn Edgley, has made Age-Friendly Community, Accessibility and Elder Abuse its main social causes for the coming year.
The Collingwood Elvis Festival in July continues to be an annual highlight for the Georgian Bay Chapter. This year Anthony Quinn, Chapter Chair Ian Kerr and a number of Chapter volunteers staffed the CARP booth for three days in July promoting CARP. Over 120 Elvis impersonators and tribute artists from around the world, and thousands of Elvis fans took part in this fun-filled and truly one-of-a-kind community event. (picture attached of Ian "call me Elvis" Kerr, with Chapter volunteers.)
Earlier in July, I was a guest speaker at the summer meeting of the Georgian Bay Chapter held at the Royal Canadian Legion in Collingwood. Chapter Chair Ian Kerr was delighted with the full-house turn out of 250, with members from as far away as Tobermory and Midland in attendance.
The Board of the Ajax Pickering Chapter visited CARP's new offices in Liberty Village to meet with us to discuss their plans for their fall meeting, 4 October, where Moses Znaimer will be the guest speaker. The group also met with Susan Eng and Michael Nicin to be briefed on CARP's Advocacy priorities for the coming year.
Under the leadership of Chapter Chair, Gwen Kavanagh, the Barrie Chapter held a successful summer antiques appraisal road show, and will be hosting a bus tour to Niagara-on-the-Lake, for wine tasting on Sept. 22nd; and are planning a coach trip for membes to the Zoomer Show in Toronto, October 29th.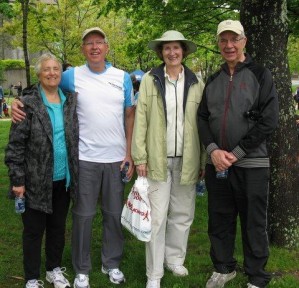 North Shore Vancouver Chapter Chair, Denise Kelly has been busy. Denise and Jennifer Abbott of the North Shore Chapter participated in the "Aging Revolution" event held at the Park Royal Mall in North Vancouver in June and Denise and April Lewis of the White Rock Chapter represented CARP at the Capilano University Elder College Conference, supporting CARP's lifelong learning objectives and our "CARP on CAMPUS" initiative.
The Brantford Chapter organized and sponsored a Dinner Theatre experience to Stage West (Mississauga) for members to see the hit musical "The Marvelous Wonderettes) featuring the songs of the 50s and 60s. I'd also like to note that Terry Little has stepped aside as Chair of the Brantford Chapter to be replaced by Andy Woodburn, the former Vice Chair. Terry will stay on as Vice Chair of the Board.
John Thompson, Chair of the Kitchener-Waterloo Chapter was the keynote speaker at the Volunteer and Community Engagement Symposium, hosted by the City of Waterloo's 55+ Advisory Board. John's topic was "Retirees and Zoomers—Tremendous Volunteers".
The K-W Chapter also organized summer Dinner & Theatre outings to the Drayton Festival Theatre to see the comedy "Italian Funerals and Other Festive Occasions" and "Murder at the Best Western" at the St. Jacobs Country Playhouse.
The Chairs of seven Chapters in the greater Toronto area continued their informal "supper meetings" in July. Gail Goldman attends on behalf of the National office. The Chairs and members of their Boards shared ideas on guest speakers for meetings, membership sales, and exchanged brief activity reports. One chapter noted they are now placing Zoomer magazines and CARP brochures in Golf Course Pro Shops and at B&B's in their area. Discussion included an interest in setting aside time when all Chapter Chairs attend the CARP AGM in October for sharing information and best practices.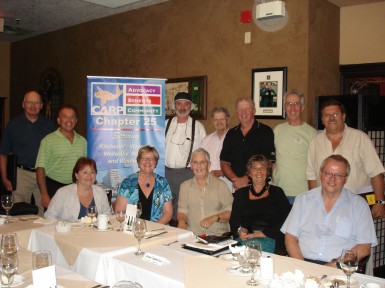 BC Representative April Lewis represented CARP at a Round Table meeting on Elder Abuse in Delta BC, hosted by Kerry-Lynne Findlay, Parliamentary Secretary to the Minister of Justice. The Hon. John Nicholson, Minister of Justice and the Minister of State for Seniors, the Hon. Alice Wong participated in the meeting. April presented the Ministers with CARP's six point plan to combat Elder Abuse. Minister Nicholson indicated that the government would be introducing measures in the fall session. In discussion with April following the meeting, Minister Wong expressed an interest in attending the Vancouver Zoomer Show in November.
For its August meeting, Vaughan Chapter Chair George Matthew organized a special event entitled: Heart Attack and Diabetes: Prevention and Management through Diet Registered Dieticians from York Central Hospital were invited to discuss healthy diets for Canadians as we age.
Bill VanGorder, on behalf of the Nova Scotia Chapter wrote to the Nova Scotia Ministry of Health raising objection to the hefty increase in the evaluation fee for the Nova Scotia Driver Evaluation Program. Seniors and other patients will see a fee hike to $440 instead of $40, if they are referred to the program by their family doctors when questions arise about their ability to continue driving. Not only is this increase prohibitively expensive for many seniors, but it must be paid whether or not they successfully pass the test.
The Hamilton Chapter participated in two Senior's Wellness Shows this summer, one in Dundas and the other in conjunction with the Hamilton Council on Aging.
In August, the Ottawa Chapter hosted its 2nd Annual "CARP Tea and Tour " at the Historic Billings Estate Museum. (See picture)
What's coming up?
There are provincial elections this fall in Newfoundland and Labrador, PEI, Ontario, Manitoba, Saskatchewan and the NWT and our chapters are gearing up to make sure that candidates and the political parties are aware of CARP's priorities. A number of Chapters plan to hold all-candidates debates.
The Montreal Metro West Chapter is now up and running and the general meeting of the first CARP Chapter in Quebec is scheduled for September 20th, at Baie D'Urfe Curling Club, 7-9 PM.
The Downtown Toronto Chapter is planning an "Arts and Culture" evening in later this fall. Come and see what's going on in the city's many theatres, museums and cultural attractions for the fall/winter/spring season.
Look for new Chapters to be launched this fall in Etobicoke and Richmond Hill, Ontario and in Langley-Abbotsford and West Vancouver BC.
For more information, Chapter contacts are listed in every issue of Zoomer Magazine, or please visit "Find a Chapter" on the Community page of the CARP website (www.carp.ca.)