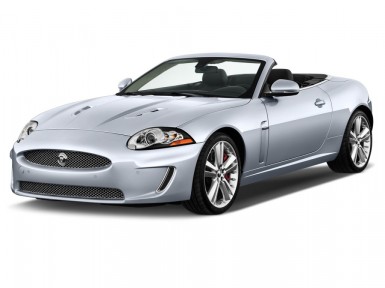 The 2011 Jaguar XKR may be aimed at a niche market of buyers looking for a luxurious, fast (the R in XKR stands for racing) and head turning convertible, for whom price isn't the first consideration, and Jaguar will likely find the majority of its customers in that market among the 45 plus crowd we like to call, in this case literally, Zoomers.
But I think that even drivers who aren't looking for those specific qualities will find something for themselves in the XKR. In what has to be considered a vintage year for Jaguar, this model offers itself to its driver in a way that is most pleasing to their own taste. Looking for a luxury, refined but powerful sport coupe? Jag XKR. Comfy grand touring roadster? Jag XKR. Mid-life comfort car with muscle and rag top? Jag XKR. Ultimate retirement gift to yourself? Jag XKR.
The XKR can be all you want it to be, all you need do is ask of it. With multiple driving modes, from sport/racing using the steering wheel mounted paddle shifters, to a smooth mode for comfortable city and highway driving that doesn't leave you rocking back and forth in your seat with each change of gear.
Sitting in the two-door, four-seater vehicle, you know that the designers have taken some pride in their efforts. Just enough touch screen technology without having to call in NASA, and a balanced compliment of wood, metal and hide that appeals to our inner interior designer.
The one touch convertible will have you in the sun, or out of the rain in a matter of seconds, and when the top is up, the interior sound is quiet and gives the sense of privacy you expect in a hard topped sedan.
The multiple adjustments for the creamy-soft leather front seats would make your dentist jealous and could sooth any arthritic back, thigh, knee, wrist, ankle that is averse to driving. In fact, the seats move in so many different directions/angles, that if you can't find a comfortable position to drive, you probably just shouldn't ever sit down again. However, finding that perfect posture will likely come at the expense of ever carrying a passenger over 8 years old, in the compact back compartment.
One caution about owning this vehicle – it could lead you to the wrong side of the law, as it's just so easy to go too fast. If you have some self control and stay out of the optional racing modes when driving past the local elementary school, it is a comfortable drive with the powerful engine waiting at the ready when called upon. For those who can't be trusted the XKR offers you a speed limiter option, whereby you set your maximum speed and the car will protect you from your lead foot. So you know if you're driving regularly in an 80 km/h zone and the police are apt to find you there… leave it on… and when it's time to open it up, take off the limiter and let your free will decide.
Another innovative safety feature offered is adaptive cruise control. To ensure that the powerful V8 doesn't take you too close to the vehicles in front of you, one touch steering column option maintains a safe distance between your supercharged cat that slow dog in front of you. A practical safety tool in any car.
The Jag XKR might be the kind of car that an 'automobile enthusiast' dreams about… with the superior horsepower, styling, comfort and drive that separates cars among their classes. But the new Jaguar XKR definitely is the kind of car that gets in your dreams once you test-drive it. Like a great movie, that weaves itself into your dreams the night after you watch it; driving the XKR is such a memorable experience that it follows you into your subconscious and may drag you back to the showroom for another chat with the salesperson.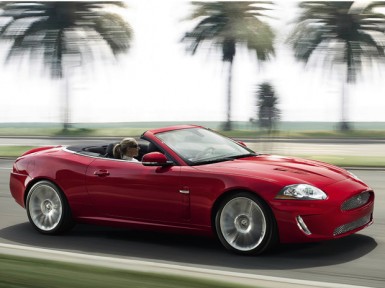 2011 Jaguar XKR Convertible
Sticker Price: $114,000
5.0-litre supercharged AJ-V8 Gen III R
510 Horsepower
461 lb.-ft Torque
0-100 KM in 4.6 seconds
11.9 L/100KM (combined city/highway fuel economy)
Jaguar Sequential Shift™ 6-Speed electronic automatic transmission with steering wheel mounted paddles and Sport Mode
Dynamic Stability Control (DSC), Cornering Brake Control (CBC), Understeer Control, Electronic Traction Control (ETC) and Engine Drag Torque Control; Active Differential Control (ADC)
By AJ Quinn