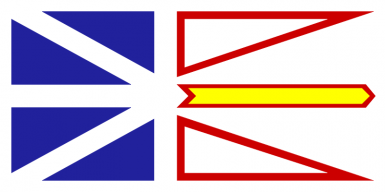 October 21, 2011 – Voters in Newfoundland and Labrador have given the Progressive Conservatives a majority government in the October 11th election.  The Tories, lead by Kathy Dunderdale, took 37 of 48 seats – a sizable majority, but six seats fewer than they held prior to the election.
Ms. Dunderdale served first as interim premier and then ran for the formal leadership. She was acclaimed, but her pre-election government was the target of occasional barbs from popular former premier Danny Williams, who hasn't elaborated on the reasons for his displeasure.
The large majority won under her leadership puts Ms. Dunderdale and the Conservatives firmly in control and may put to rest the hesitations she faced by the Conservative base after taking over from former Premier Danny Williams.
The election also made Kathy Dunderdale the first woman to lead a party to electoral victory in the province.
"Thank you for seeing and believing in our vision of a strong and prosperous Newfoundland and Labrador," she told supporters. "As I stand here tonight, I can't help but wonder what my grandmother and great-grandmother would think. In 1925, a woman could not even vote in Newfoundland and Labrador."
With most of the seats going to the Conservatives, the New Democrats and Liberals split the remaining seats, in the first election after the Danny Williams era.
The result is a disappointment for the Liberals, who added only two seats to the four they held already. Adding to the loss, Liberal Leader Kevin Aylward was defeated resoundingly by incumbent Tory cabinet minister Joan Burke. With six seats, the party just barely retained Official Opposition status.
The NDP won five seats, which they count as a significant improvement over the single seat they won in the 2007 election. Even with a smaller majority and despite the gains by the NDP, the Conservatives have a strong mandate.
What the Election Result Means to Older Citizens

With a strong mandate, older voters can hold the PCs to their promises. On healthcare, reducing wait times for surgeries was a campaign priority.  The PCs also ran on the promise to allow social assistance recipients to wait until age 65 to apply for their Canada Pension Plan benefits so they do not have to take a lifelong lower rate by applying at 60.
Additionally, they ran on proposals to improve transit options, housing, and to enact tougher laws for elder abuse. The PCs should also consider the best ideas from other parties, such as the Liberal proposal to create a health system navigator and the NDP's proposal to provide more doctors for under serviced areas.

CARP will work to ensure that the new government is held to their commitments.