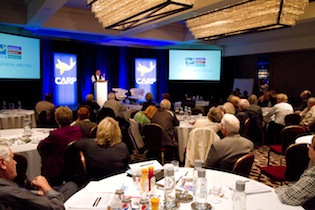 Georgian Bay Chapter Chair Ian Kerr
"From the moment many of the chapter chairs met in the penthouse lounge to the fond goodbyes at the Zoomer Show, the CARP conference achieved its goals.
The speakers and workshops created a reflection throughout of CARP's goals, mirroring the importance of community and social integration, benefits to members, as well as the importance of advocating for issues important to Zoomers. Not only did the conference allow us to raise awareness of concerns, but also taught us how to achieve better results in a timely and innovative manner.
Initially, I had some doubts about how much we could achieve, but I was pleased to discover that with teamwork, we could affect many positive changes.  Again, reinforcing the CARP goals, the conference certainly revitalized me, and enabled me to focus on the multitude of ways we can help our members receive many benefits, including keeping our minds sharp, and our bodies healthy!  By the way, the Church setting, music, exercises, and art appealed to all our senses, crystallizing the entire event."
Recharged and Ready,
Fondly, Ian Kerr
Janet Gray, Ottawa Chapter Chair:
"Once again, I was in Toronto (for the third year) at the Zoomer Life Conference, the CARP AGM and the Zoomer Show.   A fabulous 4 day experience of learning and connecting -and having laughs and fun!

The Zoomer Life Conference starts it all off-with a bang.   So many diverse speakers on all topics who share their passion with the audience for a short time.  I learn so much and often about things I have never considered before.  It is a full day of aha! moments and eye openers.  The perfect warmup for what's to come.  

The next day was the CARP AGM- a day all the Chapter chairs and Board members look forward to all year.  It brings together all 50 chapters from across the country to get to know each other and to chat about our differences and similarities, what works in our communities or doesn't. And mostly the day confirms to us all that we are in exactly the right place to move forward the New Vision of Aging that we are all passionate about.  This year we had a chance to hear from Minister Alice Wong, the federal Minister of Seniors. After a brief speech, she very graciously took questions from our Chapter members.   Her answers helped give us an idea of the complexity of her portfolio and how her portfolio overlaps with many other Ministries.  Later the attendees formed into groups and had discussions on marketing ideas- we also heard a presentation on recruiting and retaining volunteers.  Worthwhile info to us all.

The Zoomer show is a wonderful way to wrap it all up.  It is a joy to see how many people and businesses participate in the show and how enjoyable they find it.   Lots of smiling and happy faces are found roaming the many aisles of displays and activities.

Once again a success and the entire experience was a great investment of my time and a resounding endorsement that CARP is indeed the New Vision of Aging for Canada.   I am already looking forward to next year."
All the Best!
Janet Gray
North Shore Vancouver CARP Chair Denise Kelly
"As the North Shore Vancouver Chapter Chair I had the pleasure of attending this years CARP AGM which was combined with the ZoomerLife Conference and the Zoomer Show.
As a boomer myself I am passionate about  helping to bridge the gap between the ages so that together we might learn from each other making our journey of aging the best it can be.
The AGM was an opportunity for volunteer chairs from across Canada to come together to share in systems that work and to share ideas that we could take back into our respective CARP communities.  For me, it was an opportunity to join together with like minded who share in a new vision of aging.  It gave me a sense of just how powerful this organization isoverall  and the grassroots work that we are doing in 50 communities in Canada represented by CARP chapters. I also learn that each chapter (regardless of how much they are doing in their community)  together as a whole is making considerable impact as a larger group on our vision.  We are fortunate that Susan Eng represents this large momenteum of CARP members in Canada and her passion for advocacy is evident when she was interviewing Alice Wong.
Going forward I have come away empowered to continue to volunteer for this amazing organization that is passionate to help make people's lives better and it is my hope that I can implement some of the great new ideas back into our chapter so that we might reach more boomers to educate them about the benefits of CARP.
I especially loved having the opportunity to speak about my chapter and hope that my message was useful and helpful for others."
Cheers
Denise Kelly