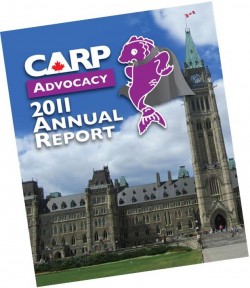 The Year in Review: what has our advocacy achieved this year?
CARP's 2011 Advocacy Report is ready for download here.
2011 was a real watershed year for CARP Advocacy.  Even in a year of political and electoral turbulence the major planks of our advocacy platform were addressed at all levels.  The Annual Advocacy Report is now available for download – it provides members with insider information about what we achieved and how we got there.
The secret ingredient, of course, was the active engagement of our members in shaping our policy and conveying these priorities to their politicians.
The Annual Advocacy Report is more than an account of what we have achieved – it lays out the CARP Vision and outlines how we use all the tools at our disposal to get you results on the most important issues that affect older Canadians today.  Whether you love politics, media and grassroots activism or whether you are curious about what the advocacy department does for you, this is sure to be a satisfying  read.
To request a hard copy, please email [email protected] or write to the CARP National office at 30 Jefferson Avenue, Toronto, Ontario M6K 1Y4