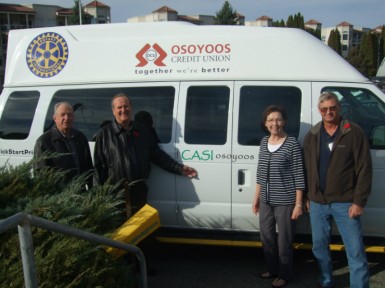 The Community Action for Seniors' Independence (CASI) project is a partnership between the Seniors' Healthy Living Secretariat of the BC Ministry of Health and the United Way of the Lower Mainland.
CASI is focused on the community-driven design and delivery of non-medical supports for seniors, to help them stay independent in their homes as long as possible.
The United Way and the provincial Seniors' Healthy Living Secretariat are working with stakeholders in five B.C. communities – Dawson Creek, Osoyoos, Maple Ridge, Surrey's Newton area and the Renfrew-Collingwood district of Vancouver – to create a coordinated approach to help seniors live longer in their own homes.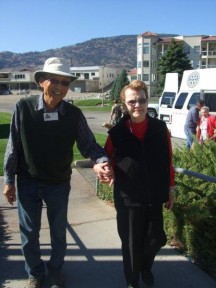 Each CASI pilot is uniquely different based on the service priorities identified by seniors in each area. The CASI Osoyoos project has 99 clients and 52 volunteers. As Osoyoos does not have a regular public transit system, many of the seniors are heavily dependent on our door to door service to get them to and from their various appointments (doctors/dentist/hospital/drug store/grocery shopping/ hair salons/banking/investment/ etc…).
CASI strives to continually meet the transportation and companionship needs of the seniors in our community. We bring people of all generations together to celebrate community, volunteerism, and inclusion.   On November 16, 2011 the Town of Osoyoos proclaimed that day as "CASI Day" in recognition of the contribution and participation of seniors' in our community, and acknowledging the importance of ensuring our seniors live meaningful, healthy, independent lives.
All of the CASI pilot projects offer a range of support services to seniors that may include transportation, housekeeping, home repair, yard maintenance, friendly visiting and information and referral services. Not all pilots offer every service.  Clients are generally charged a small fee, based on ability to pay or as in Osoyoos, by donation.
We are actively recruiting for new clients as well as volunteers. For more information, please call CASI 250-495-6925. If you are interested in making a charitable donation to the CASI project, please click here
For more information on the project visit Community Action for Seniors' Independence (CASI)