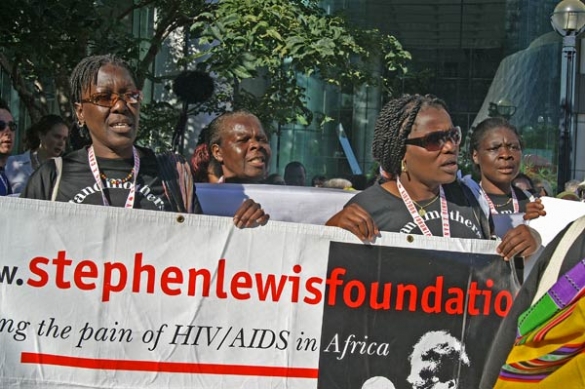 Playmates, caregivers, confidants to their grandchildren and overall go-to help for their children – these are typical roles that many Canadian grandmothers enjoy.
Now imagine the daily life of thousands of African grandmothers who are now parenting their grandchildren, orphaned by the AIDS epidemic in sub-Saharan Africa.
At a stage of life when many of us experience a reprieve from the responsibilities of raising families, these women are once again protecting and providing for young children.  In doing so, these amazing grandmothers are also building communities of support and advocacy for women's and children's rights.
In 2006, in response to their courage and plight, the Stephen Lewis Foundation's Grandmothers to Grandmothers Campaign was initiated.  This enterprise now includes not only grandmothers but also "grandothers," who have also been inspired to help African grandmothers.  Since the Foundation began in 2003, they have funded over 700 initiatives with 300 community-based organizations in 15 sub-Saharan countries.  This made-in-Canada volunteer effort has grown to a network of some 250 groups across our country.  The Campaign motto is "We will not rest until they can rest."
Imaginative fundraising activities – from selling tote bags to playing Scrabble to community concerts to bike-a-thons – help provide educational supplies, uniforms and school fees, medical care, HIV testing and counselling, adequate housing and bedding, support groups, and home visits, as well as income-generating projects for grandmothers and the children in their care.
Each grandmother group chooses a meaningful name. In Oakville, Ontario, Oomama, which means "our mothers," participates with other regional grandmother groups in a major annual fundraiser in June: Stride to Turn the Tide, a national walk organized by grandmother groups across the country. In 2011, the Halton Team raised $62,746.  In 2010 and 2011, Grandmother groups across Canada raised $736,918 in this national walk.
To date the Campaign has raised more than $13.5 million for African grandmothers and children in their care.
"It's quite extraordinary to see the bond that has developed between grandmothers on both sides of the ocean," said Stephen Lewis. "In a dramatic way, it helps to redefine the chasm between developed and developing nations. It goes without saying that the chasm exists in the realm of poverty, conflict and disease but in the realms of sophistication, intelligence and fundamental human decency, nothing separates the African grandmothers from the Canadian grandmothers.  They are as one."
The goals of the Grandmothers to Grandmothers Campaign are to:
•     Raise funds to meet the needs of African grandmothers and the children in their care
•     Listen to African grandmothers, respect their expertise and amplify their voices, in order to promote authentic and substantive responses to the pandemic in Africa
•     Build solidarity among African and Canadian grandmothers in order to motivate and sustain the vital work of turning the tide of AIDS in Africa.
Canadian grandmothers are very familiar with the challenges that raising children bring.  Their hearts and hands are reaching out to their African counterparts, connecting their spirits and bringing much needed support and assistance.  Consider joining them.
To learn more, visit www.grandmotherscampaign.org.  To get involved, or to donate, please contact [email protected] or call 1-888-203-9990 ext.230.