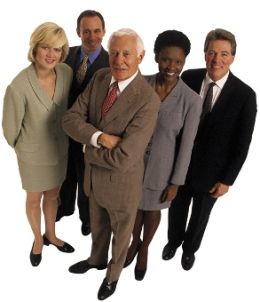 Age discrimination in the workplace is a reality in today's world; many older workers are unable to remain in the labour force or to re-enter it because of age prejudice.  As early as the age of 45, employers may identify individuals as 'older workers'.  Age discrimination does not appear to generate the same degree of moral outrage as other forms of discrimination.  Age discrimination is often referred to as the 'invisible discrimination' in our society – a discrimination so widely and sub-consciously accepted that we are often completely unaware that our actions support it – a discrimination so universally part of our modern culture that we often accept it without question.
Proportionately, Canada has the largest baby-boom population in the world, next to Australia, yet labour force participation rates of older people are still below the levels in several other major OECD countries, including the United States and the United Kingdom.
In 2007, the federal government's Expert Panel on Older Workers report, 'Supporting and Engaging Older Workers in the New Economy', stated that older persons aged 55 and over have the lowest employment rate at less that 40% compared to the employment rate for those in the 25-54 age group at about 82%.  Further, they conclude that one distinctive characteristic of older workers is that once they become unemployed they tend to experience longer spells of unemployment before finding a new job.
Joblessness is defined as being without a job up to 6 months; long-term unemployment is defined as joblessness lasting more than 6 months – unemployed older workers tend to fall into the latter category.  Unemployed older workers are being referred to as 'the new unemployables'.  Employment experts indicate that companies are increasingly only interested in applicants who have a job, expressing concerns that a person without a job has rusty work skills especially if they haven't worked for more than 6 months.  The real threat, economists say, is that we might simply become accustomed to having a large class of permanently displaced workers.
According to the Certified General Accountants Association of Canada, 13 weeks of unemployment can reduce next year wages by 3.5% for a full-time worker, while a six-month spell could hurt income for as long as four years after.
The Ontario Human Rights Commission publication 'Human Rights at Work 2008, 3rd Edition' states "Most claims of age discrimination in employment relate to older employees. … Older workers are excluded from training opportunities because of a perception that it is not worth investing in their future careers and that they are too difficult to train."
At the end of 2009, a review of employment and training services offered within the City of Toronto found that there were over 730 publicly-funded organizations and programs offering services for the employed.  Of this number, only 7 were identified as offering services specifically designed for the older worker.  By late 2011, the number of organizations and programs had jumped to 1418; services for the older worker?  0.
Concrete data on the numbers of older workers impacted is difficult to assess.  The Ontario Human Rights Commission acknowledges that it is very likely that many incidents of age discrimination, particularly in the areas of job seeking and accessing services, remain unreported.  Some statistics we do know.  For example, the rate of poverty among working-age adults, seniors and adults living alone is entrenched and growing rapidly.
Poverty increased by almost 20% among working-age adults and a staggering 42% among seniors.  According to Statistics Canada, Canada's unemployment rate, when you add in discouraged workers and people who are working part-time but would prefer full-time, is closer to 10.7%.  Unfortunately, the number of people whose jobless benefits expire before they find work is unknown.  HAPPEN (Halton and Peel Professional & Executive Network) provides support for mid- to senior-level managers and executives to reduce the time in career transition to regain employment.  In the first 6 months of 2011, 1027 individuals became members while only 477 members were successful in finding employment.  At any one time, there are over 2000 active paid-up members and over 10,000 individuals on the e-mailing list.
Given the entrenched attitudes and negative stereotypes about older workers, is it any wonder that an older worker would rather call themselves semi-retired, or a consultant, or an entrepreneur to explain the gaps in their resumé.  Or defend long periods of unemployment with the reason of caregiver activities for family members.  Anything but admit that workplace age discrimination could possibly play a role in their long-term unemployment.
A compelling business case can be made for retaining or hiring 50+ workers for a wide range of jobs.  Talented, experienced workers have distinct performance advantages in roles that require advanced skills, training, experience and knowledge of a company's business processes, people or customers.  There is a need to look beyond traditional stereotypes about aging in order to benefit from the growing number of older citizens, many of whom would choose to work longer given appropriate policies and workplace practices.
Ageist attitudes must be defeated.  Once older workers are acknowledged as a resource, perhaps attitudes may change.  In the meantime, businesses should implement a zero tolerance policy towards discrimination in the workplace.  Policies that help older workers to remain longer in the workforce will not only be of benefit to society as a whole but also to many older workers themselves for whom early exit from the workforce may result in social exclusion and reduced opportunities to ensure an adequate income in retirement.
Karen Gilmour
Older Worker Advocate