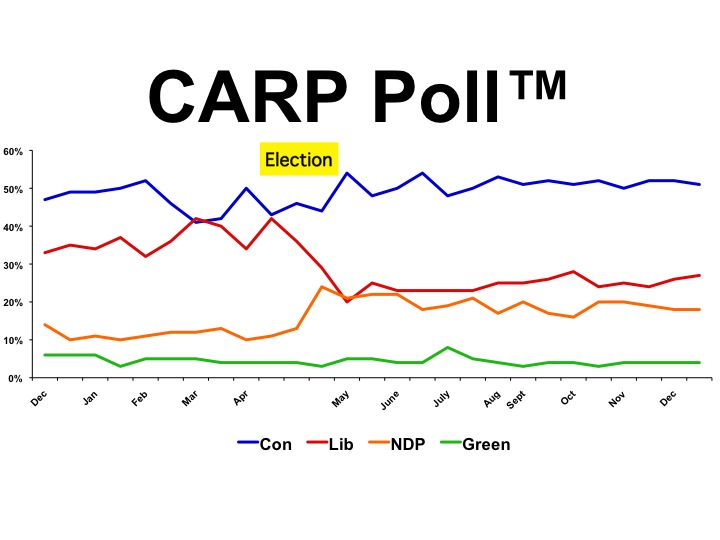 KEY FINDINGS
A majority of members feel majority governments should take the concerns of the opposition into account when drafting legislation, and a majority disagree a majority government has the right to pass any legislation it wants, regardless of opposition input.
Members strongly favour fixed election dates, primarily because they take power out of government hands and because they permit long term planning.
Members are equally likely to say they would rather sped the $19 billion the Omnibus Crime bill will cost on lifting every Canadian out of poverty or reducing the deficit. Fewer say they want to see the money spent on the crime bill.
Members are evenly split on whether they agree with a national guaranteed minimum annual income. Those who see drawbacks mention creating a permanent welfare class and disincentivizing work, while those in favour mention justice, better health, an end to poverty and savings.
Two thirds of members disagree the government should be able to make a change as significant as raising the eligibility age for OAS without having run on it, and close to two thirds say majority governments should be able to enact legislation they didn't run on only if it is in everyone's benefit.
Virtually all members give to charity or volunteer and most get a tax receipt, a third say they are giving more now than in the past and social welfare and disease research charities are favoured. Members agree private charity has little or no role in maintaining public social services.
When they assess this newsletter, members are most likely to say they are interested in health care topics and pension topics, they agree they read "News You Can Use" first, three quarters say they read all or most issues and virtually all find it interesting. Members would like to see more material on how current affairs affect older Canadians, which demonstrates our members' relentlessly outward focus.
Members think the CBC should be restricted to news, information and documentaries or to Canadian content, rather than presenting the same fare as private media, but they think the optimal revenue model is the current one, in which the network competes with private media for advertising and content.
While the Conservative Party draws the support of one half of members, one quarter support the Liberals and just one fifth supports the NDP.
To view a full copy of the report including charts and graphs, please click here
TCPTG12345