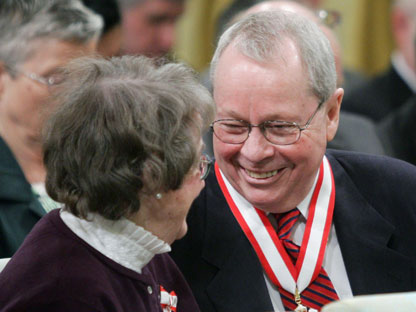 Congratulations to CARP Advisory Board Member, David Crombie, P.C., O.C., O. ONT,  who was invested into the Order of Ontario at a ceremony at the Provincial Legislature on January 26th.
Mr. Crombie sits as a member of the CARP Advisory Board, offering counsel to CARP President, Moses Znaimer and acts as a resource for the network of CARP Chapters across the country.
Click here to watch his CARP public service announcement
A three-term mayor of Toronto whose socially-responsible urban policies replanned the downtown and preserved important historical neighbourhoods. He continues as Founding Chair of the Waterfront Regeneration Trust and Chair of the Toronto Lands Corporation.
Mr. Crombie became an Officer of the Order of Canada in 2005.