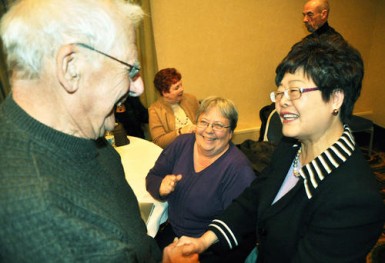 More than 100 CARP Members gathered for a visit from Federal Minister of State for Seniors, the Honourable Alice Wong, on February 2nd.
Timing is everything as they say, and Ms. Wong was peppered with questions about recent headlines generated by the Prime Minister's comments regarding OAS while in Davos, Switzerland.   Healthcare and Homecare were two other items on the minds of CARP members of the BBQ CARP Chapter (Brighton, Belleville, Quinte West).
Chapter Chair Ken Prue was delighted that the Minister accepted his invitation to visit the chapter; an invitation he proffered in person to Ms. Wong who was a featured speaker at the CARP Annual General Meeting in Toronto this past October.  Senior's issues and this Minister's portfolio have continued to be in the spotlight, which has only brightened since these new questions about the future of OAS have arisen.
Click here to read local press coverage of the event.