New Scarborough CARP Chapter introduces founding Chair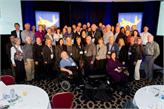 There are over fifty CARP Chapters across Canada.  To date, Scarborough has not been one of them.  This is about to change.
Recently I was asked to establish a Scarborough Chapter.  I didn't hesitate in accepting the position.
As a way of introduction, my wife and are long term Scarborough residents and active CARP members.
We have found our association with CARP has been both enriching and personally rewarding.  At the same time my involvement with Seneca College as Director of the Centre for Financial Services has brought me in close contact with the people at CARP and a greater appreciation for what they do.
To create a successful Chapter requires help and involvement.  At the moment I am looking for volunteers either as members of the board, committee chairs and/or members.  Of course the key goal is to represent the community and therefore growing the membership will be the key to the success of the Chapter.
Once the Board of Committees are established, our Chapter will provide opportunities for all of us to get involved in the social issues that affect Canadians as we age and to strengthen CARP's voice and influence locally, regionally and nationally.
Please note, if you are currently a CARP member, or want to become one, there are no additional fees or dues for joining our Chapter.  In fact, you can support our Chapter by simply including our Chapter number 29 on the membership form when you become a member, or re-new your membership.  By including our Chapter number, whether you register online, over the telephone, or on the printed membership form, a portion of your CARP membership fee will be allocated to our Chapter so we can continue to be a value resource in our Community.
Plans are underway to hold a launch of the new Chapter in late March at a Scarborough location to be announced.
If you would like more information, or wish to volunteer, please feel free to contact me by email at [email protected] or 416-491-2652.
I hope you will join us, meet new people, have fun and help make our community a better place to live for people.
Sincerely,
Gary Butler
Chair, Scarborough Chapter
[email protected]
416-491-2652