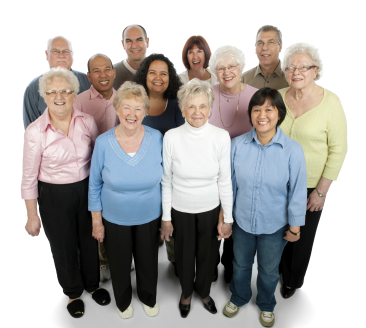 CARP Chapter activity across Canada has been picking up since the winter break and nothing has energized and activated our volunteer boards and members more than the Federal Government's flip flop on OAS pensions.
Hands off OAS
The phones have been constantly ringing and our email boxes filling up as CARP members express their displeasure with the proposed changes to Old Age Security.  Members have been sending letters and emails to their local MP's constituency offices and CARP Chapter representatives have been meeting in person with their own local representatives to let them know just how off-side these unspoken, upcoming changes to OAS are.
Bird Count
On a more positive note, CARP's promotion of the Great Backyard Bird Count has resulted in record returns across Canada.  Kerrie Wilcox from Bird Studies Canada said participation has almost doubled thanks in great part to the efforts of CARP members, particularly in BC and Ontario, with over 7000 individual reports and results still coming in from across Canada.
Osteo-Forum
Our Vancouver Central CARP Chapter has a great turn out for their Osteoporosis Forum as CARP members heard from health experts on the causes, and the prevention of this debilitating disease.
Get Involved in Chapter Activity
The newest CARP Chapters have really gotten into gear in the new year and have many exciting plans for 2012.  Please check out our directory for a listing of Chapters in your area and get involved.  Winnipeg, Scarborough, Niagara, Guelph, South Fraser, Fort McMurray, Chatham-Kent and Montreal are just a few of our Chapters with big plans for 2012.
ZoomerShow
CARP members in Ottawa should mark May 5 & 6 in your calendar as the ZoomerShow will be in town for the first time.  Riding on the success of ZoomerShows in Vancouver and Toronto, we've added Ottawa in May and Calgary in September to the tour stops in 2012.  visit www.zoomershow.ca for more information and contact the ZoomerShow office if you'd like to get involved as an exhibitor/vendor,  sponsor or volunteer. Remember, all CARP members get in free!
Kingston & Montreal
The executive board of our Kingston CARP chapter has come to the end of their term and we are looking for new CARP members to keep up the important work of that CARP Chapter in your community.  If you'd like to get involved or would like further information, please click this link and visit our Community Development pages.  We're also looking to put together our founding board for our Downtown Montreal Chapter.  Please get in touch!
Pink CARP
The "virtual" LGBT Pink CARP chapter would like to hear from you.  If you're a CARP member and interested in our advocacy on behalf of same-sex Seniors and concerned about the unique perils many LGBT seniors face (aging alone, discrimination, being forced back in the closet, financial insecurity…) or perhaps equally interested in the social aspects of LGBT Zoomer life, please get in touch with PinkCARP at [email protected]
-Anthony Quinn
Manager, Community Development
[email protected]