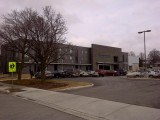 JOIN US AT THE NEW LANGS CENTRE!
Our next get together will be held from 2 – 4 p.m. on March 13, 2012, at the new Langs Community Centre, 1145 Concession Road, Cambridge, Rooms E105-106.
Program:
2 p.m. – 2:45 p.m. – Paul Drouillard, Owner of Profit Accounting Support & Service Inc., will speak to us on "Innovations in Financial Planning at Tax Time".
2:45 p.m. – 3:15 p.m. Light refreshments will be available
3:15 p.m. – 4:00 p.m. – Marlene Watson, Family Service Counsellor at Dignity Memorial Homes, will speak about "Planning for the Future for you and your Family".
The speakers are looking forward to your questions so come prepared!
DRAW FOR DOOR PRIZE
WE WANT TO HEAR FROM YOU!
We have some questions to ask you about what you want from your Board and we've drawn up a short list.  We're hoping you'll take time to respond.
1.  As a CARP member, is it important to you to have a local Cambridge Chapter?
2.  Would you attend regular, local presentations with a "seniors" focus, and what is your preferred time of day.
3.  Is your only interest, travel insurance and hotel discounts, for belonging to CARP?
4.  Is the Zoomer magazine important to you?
5.  Are you interested in volunteering with your local CARP Chapter?
You can reply by emailing us at [email protected], or by leaving a message on 519 219 0470.  Any additional comments will also be appreciated.
We hope to see you on March 13th at the new Langs Centre.   Parking is on Concession Road or Langs Drive.   Please do not park in the Langs parking lot which is reserved for it's members.  If you have any questions please contact your Chapter Chair, Pat Templeton, by emailing [email protected] or phoning 519 219 0470.