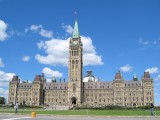 This article was published by The Hill Times on March 15th 2012.  To see this article and other related articles on The Hill Times website, please  click here.
Prime Minister Stephen Harper has ushered in a seniors Cabinet post and council, but government closes ranks on OAS.
The federal government has been hard at work assuring the public that it supports the country's growing population of seniors, and has taken significant steps to consult with seniors on policy issues. When it comes to pension reform though, the Conservatives aren't open to suggestions.
Seniors issues have been a hallmark of the Conservative government since Prime Minister Stephen Harper (Calgary Southwest, Alta.) established the National Seniors Council and appointed Conservative Senator Marjory LeBreton as minister of state for seniors in 2007. The post is currently held by Alice Wong (Richmond, B.C.) who assists Human Resources Minister Diane Finley (Haldimand-Norfolk, Ont.) by consulting with seniors and representing their concerns in Cabinet.
Ms. Finley has been a leading advocate for the government's recently-announced plans to reform Canada's Old Age Security program by raising the eligibility age from 65 to 67, while Ms. Wong has been busy holding roundtable discussions with seniors groups across the country and unveiling federal programs aimed at supporting the growing cohort of retirees since she was appointed to the post following last year's federal election.
Last week, Ms. Wong announced that the National Seniors Council would begin consulting with employers on how to retain and attract older workers following a series of roundtable meetings with local seniors groups in Ottawa, London, and Victoria. The talks focused largely on the topics of elder abuse and job opportunities.
"I heard from roundtable participants that while the Government of Canada's current elder abuse campaign has been very effective, there continues to be a need to raise awareness among at-risk seniors, caregivers, immigrants and youth," said Ms. Wong in an email response to The Hill Times. "There were also numerous mentions of the need to support seniors' participation in the labour force and to encourage active involvement within their communities."
Susan Eng, who serves as VP of advocacy for the Canadian Association of Retired Persons (CARP), said that her organization looks to the minister of State for Seniors as someone to champion seniors issues in Cabinet, not only for current seniors, but also for future seniors.
"That's really an important function, because in the area of advocacy you worry that if you isolate your issues with one ministry, other departments won't think about them. When you have a champion who becomes a specialist and collects the input from all the stakeholders and groups like ours they bring it to Cabinet," Ms. Eng told The Hill Times.
Ms. Eng praised Ms. Wong and her predecessor Julian Fantino (Vaughan, Ont.) for engaging with seniors groups across the country, but noted that on the issue of OAS reform, which CARP opposes, the government has been less open to public input.
"On the OAS file, the government seems to have closed ranks and no one's allowed to speak out of turn, which means that our most recent meeting with [Minister Wong] on OAS was a bit stilted," she noted. "On OAS the current group of seniors already has their OAS so they can't possibly be affected by any of these changes. They're worried about the social safety net for their children and grandchildren."
Both Ms. Wong and Ms. Finley declined interviews with The Hill Times.
Opposition critics have accused the federal government of balancing the budget on the backs of seniors through OAS reform, but to their credit the Tories have taken steps to broaden the social safety net for seniors since first forming government in 2006. Significant policies include the government's New Horizons for Seniors program, which has an annual budget of $45-million to fund programs aimed at increasing the participation of seniors in communities. The program funded a two-year long nationwide campaign to raise public awareness of elder abuse which concluded last year. The government also invested $400-million between 2009 and 2011 in low income housing for seniors as part of stimulus spending.
The government increased financial support for low income seniors through the Guaranteed Income Supplement (GIS) when it passed parts of the 2011 budget in June of last year. Under the GIS "top up" seniors who qualify for GIS will be eligible to receive an additional $600 annually, while couples can receive an additional $840 annually in federal assistance. When the government passed the rest of the 2011 budget at the end of last year it repealed subsection 9(2) of the Canadian Human Rights Act, which had allowed employers to dismiss workers when they reached the age of 65.
The Tories have also attempted to close the country's retirement savings gap by establishing a pooled retirement pension plan which would be available for Canadians without private pensions. The House Finance Committee tabled its report on Bill C-25, the Pooled Retirement Pension Plans Act, last week.
Statistics Canada reports that in 2008 the participation rate of seniors in private retirement savings plans was 20 per cent. 80 per cent of seniors were without an RRSP or private pension plan. Among the 55 to 64 age group, many of which have by now reached retirement age, 43 per cent were without any private retirement savings plan. Only 34 per cent held RRSPs.
Moreover, an October 2011 TD Bank study reported that people above the age of 65 had taken on debt at three times the national average in the last five years. While the report notes that seniors and people approaching retirement have stronger asset bases, the debt growth for people in age groups 44 to 64 and 65-plus had outpaced asset growth since 2001, a trend that has only accelerated with the loss of savings and investments during the recession.
Canada has seen considerable success in reducing seniors poverty over the last three decades. Over 30 per cent of seniors fell within the low-income bracket in 1977. The figure hit an all time low of 4.9 per cent in 2007 but has since increased to 5.89 per cent—as estimated 250,000 senior citizens living in poverty.
Ms. Eng said that while the federal government has been responsive to the public on initiatives like topping up GIS, repealing the mandatory retirement age, and improving housing for low-income seniors, a more coordinated national strategy is needed to eliminate poverty among seniors all together.
"The reason why that number is relatively low, as the government will keep telling you, is because we've had GIS and the CPP mature and there has been economic prosperity in the last few years. The number of seniors living in poverty has dropped from double digits to single digits, but it's not going to continue getting better all by itself," Ms. Eng said. "These are drops in the bucket without an overall strategy. You need to have a larger strategy to deal with something that is this complex."
CARP's call for the elimination of poverty among seniors has been taken up by the NDP, who introduced a motion on Jan. 31 to "reject calls by the Prime Minister… [to raise] the age of eligibility for Old Age Security and call on the government to make the reduction and eventual elimination of seniors poverty a cornerstone of the next budget," a point that NDP seniors critic Irene Mathyssen (London-Fanshawe, Ont.) reiterates in an op-ed in this week's Aging Society policy briefing in The Hill Times.
"The government should be taking practical, affordable measures to lift every senior out of poverty, not making the situation worse with plans to slash Old Age Security," Ms. Mathyssen writes.
Liberal seniors and pensions critic Judy Sgro (York West, Ont.) also criticized the government's plans to raise the OAS eligibility age to 67, and accused the Conservatives of being motivated by "neo-conservative ideology."
"If people are healthy and want to work longer there's no issue, you can do that. People working in manufacturing, construction jobs, waitresses—when you get to 65 you're pretty tired," Ms. Sgro told The Hill Times. "To tell people that they're not going to get their pension and will be forced to work until 67 takes away the flexibility of our pension system."
The NDP's motion to protect OAS and end seniors poverty was defeated on Feb. 6 by 147 votes to 127 votes. During a Feb. 2 debate on the motion, Ms. Wong said that OAS had to be reformed.
"The NDP is attempting to confuse seniors. The changes we are proposing will happen long after the budget is balanced. This has nothing to do with deficit reduction. Whether it be through lower taxes, increased funding to fight poverty, or simply to make our economy stronger, Canada's seniors are the winners," Ms. Wong told the House. "Because the motion does not reflect the intent of the government and because it is hopelessly misguided, we simply cannot support it."