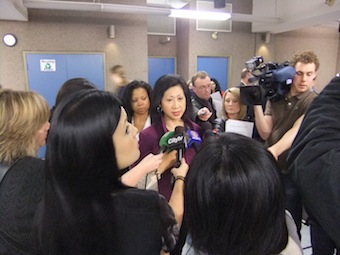 Justice Minister Rob Nicholson hoisted the issue of elder abuse into the media spotlight with his bill to increase sentencing for elder abuse convictions. Having a senior minister of the Crown telling Canadians that a largely hidden crime is a public offence will put the issue on the front burner of public policy and start the conversation around the country about what needs to be done to eradicate this scourge and more important, what individuals can and should do if they or people close to them are facing abuse.
The tragedy is that victim services and prevention programs are not readily or uniformly available. So the demand must now be directed at getting the resources for them. With the heightened attention paid to the issue with this announcement, advocacy for a comprehensive strategy and resources should fall on more receptive ears.
Certainly, a Criminal Code provision increasing the sentence, by itself, is not going to solve the problem. There needs first to be a national hotline to report abuse, such as a 1-800 number or 911, some obligation on front line service providers to report any abuse they see and specialized training and resources for investigators and prosecutors to actually get the conviction before the increased sentencing provision can be put to use. Then, its deterrent effect can be felt when the case is publicized.
Preventing the abuse in the first place is certainly preferable and important initiatives are scattered across the country but suffer from perennial under funding and lack of public awareness. This would be the time for them to pursue funding and resources on a comprehensive basis.
Ultimately, people need to know they have the right to be treated properly whether they're dealing with strangers or their own family. If and when they reach out for help, it is incumbent on the rest us to ensure that it is there for them.
Perspective matters. That's why "World Elder Abuse Awareness Day" should be renamed "the Day to End Elder Abuse".
Click here For the Government News release announcing Bill C-36
Click here for CARP's news release welcoming the announcement
Click here for some of the media coverage of the announcement and CARP's reaction