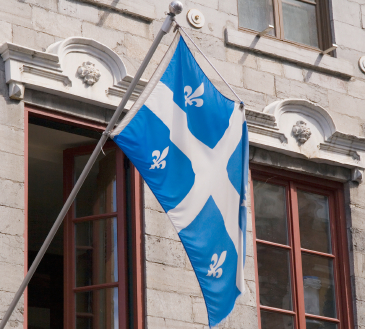 This article was published by The Globe and Mail on March 19th 2012.  To see this article and other related articles on The Globe and Mail website, please  click here.
If there is one message Quebec Finance Minister Raymond Bachand will deliver to voters in Tuesday's budget, it is that the province's public finances are under control and the government is on target to eliminate the deficit by the 2013-2014 fiscal year.
It will be a budget filled with the promise of greater wealth, cloaked in the optimism that after a fragile recovery, Quebec is on the cusp of economic prosperity.
"This is a budget of continuity," Mr. Bachand said recently in summing up budgetary expectations. "We'll be in surplus by $2-billion in 2015."
However, the government's message of hope has been dampened by the recent spike in the unemployment rate, a record debt, public anger over the poor treatment of the elderly in nursing homes and massive student protest over a 75-per-cent increase in university tuition fees over four years.
By the end of the week, close to 270,000 college and university students will be on strike. A massive demonstration in Montreal on Thursday will highlight a protest movement that has suddenly gathered steam and created social unrest marked by several clashes between demonstrators and police.
But Mr. Bachand remains firmly entrenched in his position. The government refuses to back down on tuition-fee hikes and will wait and see if the protesters gather any more momentum before proposing measures in order appease the student unrest.
The government will also be closely monitoring reactions to its budget from credit-rating agencies concerned about the province's mounting debt. When the Liberals took power in 2003, the province's debt was $133-billion or 53.5 per cent of gross domestic product. As of March 31, that number will have ballooned to close to $184-billion or 55.5 per cent of GDP.
"The debt-to-GDP ratio should decline to 53.6 per cent as of March 31, 2016," the Ministry of Finance stated in an economic update released last fall as the government attempted to play down the debt problem.
In a recent report, provincial auditor Michel Samson noted "a certain degree of uncertainty" over the government's ability to cut spending in order to meet its zero-deficit target. He stated that the debt was growing faster than what was anticipated. The cost of servicing the debt, he argued, could undermine the government's ability to meet its debt-reduction targets.
Mr. Bachand will attempt to shift attention away from the debt and underscore the major investments generated by several mining projects in northern Quebec as a sign of the province's economic vitality.
And with 2012 likely to be an election year, the Liberal government will introduce measures to reassure vital party supporters. Mr. Bachand said there will be specific home-care programs for the elderly. He will also offer to help employers set up voluntary pension plans for workers who don't have any.
Job-training measures to alleviate manpower shortages in certain sectors as well as more venture capital for start-up businesses were also expected in Tuesday's budget.
"We are building the future, building economic prosperity through the Plan Nord … and we will take care of our elderly, our parents, build our pensions and finance health and education," Mr. Bachand said.
Strapped for money, the government has little room to manoeuvre. There will be no new generous social programs to seduce voters. And with an election looming, the government has made it clear there will also be no new tax increase or fee hikes. That was done two years ago in 2010-2011 budget.
At the time Mr. Bachand announced several fee hikes and tax increases. The provincial sales tax has increased by two percentage points since then. A $200 health tax on workers, regardless of income, was also introduced, as was a hike in the gasoline tax and of course university tuition-fees hikes. A gradual increase in the price of the province's heritage pool electricity rates will also take effect as 2014.
With the bad news out of the way, the government was gambling that Quebeckers have come to accept that paying more in taxes, fees and rates was better than cuts in services. But so far public opinion polls have shown no signs that voters approve of the Liberal government's handling of the economy and the public purse.