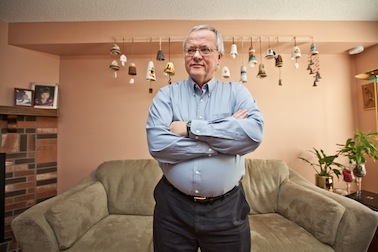 This article was published by The Calgary Herald on March 19th 2012.  To see this article and other related articles on The Calgary Herald website, please  click here.
Key challenge will be to accommodate medical needs
Murray Etherington and his wife envisioned a "glorious retirement," with dinners on the town, exotic cruises and visits overseas with friends. But after being downsized by their respective companies, the couple's golden years are instead being spent eating in, vacationing at relatives' homes and struggling to make ends meet.
Etherington, whose corporate career was snuffed out in 2009, says the problem is that nobody is interested in hiring workers in their 60s – no matter how educated or qualified they are. And he worries that his children, currently in their 30s, will be railroaded by the same kind of "ageism" in the years to come.
"There's a lot of talent and capability out there that isn't being examined be-cause of people's age," says Etherington, who lives in Mississauga, Ont. "I would love to see that change, with companies giving (older workers) more opportunities to participate."
Debate about the abilities – and the basic rights – of aging workers is coming to the fore in this country as Canadians increasingly work later into their traditional retirement years.
In this series, Postmedia News will plumb the vast implications of this paradigm shift on workplace culture, the transportation sector, gerontechnology and the older employees themselves.
Recent federal discussions about raising Old Age Security eligibility from 65 to 67 have many older workers worried about their retirement. In fact, the coming realities of the work world will affect Canadians in every demographic.
One recent analysis from the human-resources consulting firm Towers Watson showed the point at which the vast majority of Canadians reach "pension freedom" – having the financial means to retire comfortably – is already drawing close to 67 years.
Meanwhile, the U.S.-based financial services company Wells Fargo says that fully a quarter of middle-class workers today – of all ages – believe they'll "need to work until at least age 80" to enjoy a comfort-able retirement.
But will employers want older workers around? Al-ready, the aging workforce is forcing organizations to wrestle with such uncomfortable issues as seniors' ability to keep up with job demands, the degree to which physical or mental deterioration can compromise performance, and the cost to companies' bottom lines if a large segment of their staff is silver-aged.
"The older cohort will very likely be high users of expensive services, products and medical programs, which will put health-benefits costs through the roof," says Mike Cuma, a human-resources expert who predicts many organizations will be "unwilling or un-able" to meet the demands of such a shift.
A 2010 report on Canada's aging population finds 15 per cent of those 65 to 79 have four chronic diseases, including such conditions as diabetes or hypertension.
"Health costs for employers providing group plans are becoming extremely expensive, increasing at a rate way past general inflation," says Cuma, a partner at Legacy Bowes Group in Winnipeg. "And at 70, 75, 80 and beyond, an individual's capacity to perform be-comes dramatically different from someone in their 20s or 30s."
But Garry J. Wise, an employment lawyer from Toronto, notes that people are vulnerable to physical and mental disabilities at any age, and that it's a slippery slope to narrowly pigeonhole one demographic as risky hires.
"My immediate reaction is to recoil at the assumptions . . . that once you reach 65, you can expect all kinds of problems and that suddenly it's a nightmare for employers," Wise says.
"Thirty years ago, we might have talked about a pregnant woman as being unable to do her job. We may have to deal with similar prejudices around the greying of the workplace."
Gerontologist Amy D'Aprix, a consultant for seniors' care service Revera, says once Canadians reach 65 years of age, they're at a higher risk for such things as Alzheimer's and dementia. But she emphasizes that neither condition should be considered a normal part of aging, or a barrier to hiring seniors.
"Mentally, the change that's most common is that our brain's processing speed slows down. But that doesn't mean we lose any intelligence," says D'Aprix.
"(A cognitive disease) isn't when you can't remember where your car keys are; it's when you can't remember what your car keys are for."
Diana Bacon, a retiree and active volunteer from Edmonton, says she isn't encouraged by the outlook.
"It's sad if people are having to work into their 70s and they don't want to," says Bacon, 78. "But I think it's equally sad if they're fit and healthy and want to work into their 70s and aren't allowed to."
Over the next 25 years, the number of Canadians older than 65 will more than double, to 10.4 million.
By 2051, analysts project there will be only 2.5 people age 20 to 64 for every senior in Canada, compared to 4.7 in 2009.
A talent-management ex-pert from Toronto says the implication is that, like it or not, people will be required to work longer.
"The next generations are a lot smaller than the current groups," says Ofelia Isabel, of Towers Watson. "If we're going to continue to increase our productivity and continue to grow, which Canada wants and needs, companies will need to have people stay longer in the workforce," she said.
Isabel's colleague, Julia Holden, suggests a key challenge will be accommodating employees' medical needs. She believes holistic programs that emphasize prevention – think nutritious food in the cafeteria, on-site yoga and free bio-metric screening – will come to be the standard.
"Our own behaviours account for 50 per cent of our health outcomes. So if employers offer effective health-management pro-grams for their employees, and employees are able to move toward a healthier lifestyle, it would hopefully hold true that some diseases could be held off," says Holden, health and productivity leader for Toronto and Western Canada.
"In doing this, organizations reap rewards both in human capital and in financial results."
But what happens in the worst-case scenario, when the employer does every-thing right but a senior employee nonetheless suffers a marked decline in abilities?
The human rights code bars employers from discriminating based on age. And after recent changes to federal law, companies that are regulated nationally – banks, for example – can no longer enforce a mandatory retirement age.
So if concerns are raised that someone is experiencing such an issue, a company's options are extremely limited.
"The short answer is that employers are required to accommodate any disability, up to the point – but not beyond the point – of undue hardship," says attorney Wise, explaining that "modified duties," which accommodate the worker's new medical limitations, are generally the safest option.
"When you're dealing with any difficult situation where there's an overlap between a disability and the ability to perform the critical functions of a position, legal advice is a really good idea. Proceed with extreme caution until you've spoken to your lawyers – who will probably tell you to proceed with extreme caution."