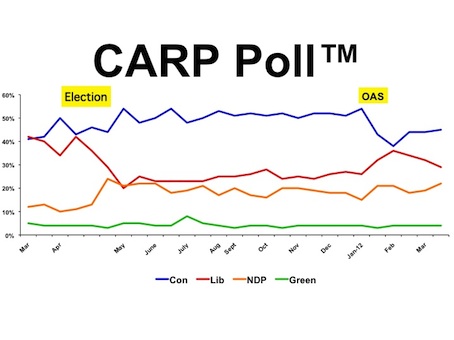 KEY FINDINGS
April 3, 2012: Both mothballing our submarine fleet and reducing our order of fighter jets are seen as more acceptable cost-cutting measures than raising the age of eligibility for OAS from 65 to 67
Members are most likely to support taxing the wealthy or reducing the civil service as budget-cutting measures, and are far more likely to suggest these than changing OAS.
Those who believe changes to OAS are inevitable (close to one half) are evenly split between softening the impact through a provision for single seniors or decoupling OAS and GIS. Most opt for lowering the eligibility threshold income of $121,000 when specifying a cost-savings measure for OAS.
Two thirds agree the budget should include stimulus to provide job growth for youth, and even more support more apprenticeships for youth or more difficult targets like keeping high value jobs in Canada as a solution to youth employment. There is wide agreement these measures will do more to secure the future for youth than altering OAS.
The vast majority of members agree that military budgets must be subject to the same scrutiny as domestic budgets, and that Canadians can support the military and responsible military budgeting at the same time.
Members aren't convinced there is enough access to hospice care in their provinces and the vast majority agree this should be covered under the Canada Health Act.
While the majority of members agree only generic drugs should be covered when a brand name is available too, they do not agree only one medication should be covered for each condition. Thus, they want choice in types of therapies, but don't care about brands.
The vast majority are aware of the move to stiffer sentencing for elder abuse, close to half have seen or heard CARP mentioned in the media in the past two weeks and four-in-ten have seen or heard mention of Susan Eng during that period. Recall is primarily of changes to OAS, and also of stiffer sentencing for elder abuse. This must be considered very high awareness and message penetration and recall, even given the extremely involved audience.
The Conservative party has improved its standings, as has the NDP, while the Liberal Party has declined in voter affection. The Conservatives still dominate, the Liberals are in second place and the NDP are third.
To view a copy of the full report complete with Charts and Graphs, please click here
TCPTG12345