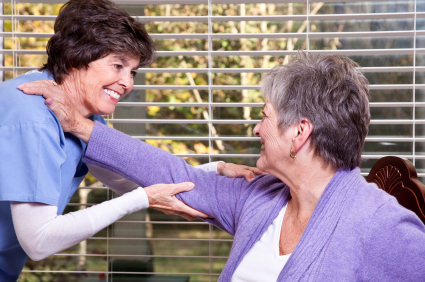 April 20, 2012 – The Health Council of Canada (HCC) released a study on homecare in Canada entitled, Seniors in need, caregivers in distress: What are the home care priorities for seniors in Canada? The report supports CARP's advocacy on the importance and cost-effectiveness of homecare and caregiver support as part of an integrated system of continuing care helping seniors to age at home.
Currently, despite the increase in the use of homecare, the homecare systems in place are lacking. These services will need to grow as the population of seniors does. According to this report, some aspects that need improving include:
The care of one third of seniors who are in need of higher care;
The help provided to the 2.7 million caregivers aged 45+ who care for seniors with long-term health conditions, and their financial, emotional, physical stresses;
The interprovincial discrepancies in eligibility, types and amounts of services provided, and pricing, all pointing to geographical inequities in access and quality of homecare.
The report argues that we need to provide better homecare support to the growing number of seniors who want to age at home. Using data collected on seniors who receive publicly funded homecare in Canada, it provides a snapshot of the ways in which homecare is inadequate and varies across the country. According to the report's findings, while Canadian governments have expanded their homecare programming considerably in the last decade, many seniors with complex health conditions still do not have their needs met.
Currently, where homecare is offered, the number of hours of care that are provided are often capped. As a result, informal caregivers often have to pick up the slack. This means that the average hours of care provided by family caregivers has to increase significantly as a seniors' needs increase. And yet the same increase does not take place in the public sector. This leaves caregivers to take on considerable responsibility and stress from caring for seniors with the highest level of need.
Support grows for an integrated system of continuing care

The HCC report echoes CARP's advocacy that in order to help individuals stay out of the expensive and limited acute care hospital beds and long-term care facilities, provinces and territories need to provide improved and more comprehensive homecare services and caregiver supports.
As a critical way to ensure the sustainability of the Canadian healthcare system, homecare needs to be integrated with the larger system of continuing care services and programs in order to make most of resources while increasing quality of care.
"Home care needs to be viewed as a critical part of an integrated health care system. Integration of a wide range of services, particularly for seniors, can improve health outcomes, reduce emergency department visits and hospitalizations, and lower rates of placement in long-term care homes", according to the report.
As the population of older Canadians grows, so too will the need for home care and caregiver supports. With greater emphasis on homecare, particularly with moves towards integrated models of continuing care, provinces and territories can make most of investments in homecare and achieve better, more equitable results.
The following broad recommendations are outlined:
Recognize that homecare has become a cornerstone of the health care system requiring a shift towards an integrated system of continuing care;
Provide ongoing support for family caregivers and immediate relief for caregivers who are in distress; and
Look to Canadian and international examples and adapt or expand what is working;
Consider new homecare options before investing in more long-term care facilities.
Learning from Best Practices

The report draws on programs and pilot projects that are taking place nationally and internationally as examples of what has proven to be effective in addressing the need for enhanced homecare and caregiver supports within an integrated system of continuing care. Some best practice highlights include:
Ontario: Home First program treats transferring a patient into a long-term care facility as a last resort. It sends patients back to their communities and homes with case management and enhanced homecare support, allowing seniors the time to decide, in the comfort of their homes, if they need institutional care.
Nova Scotia: Building on Ontario's Home First strategy, Home Again Continuing Care Program was piloted in health districts in Nova Scotia and has helped many seniors remain at home. The program provides enhanced homecare services including:

Intensive case management;
Home support services (up to 56 hours/week for a maximum of 60 days);
Home support services through five agencies;
Consistency in providers and assurance of a replacement when a regular provider is unavailable;
Nursing and personal services as required; and
Assessment and follow up by a rehabilitation team.

Veterans Affairs Canada (VAC): Veterans Independence Program (VIP) offers various community support services such as housekeeping, grounds maintenance, and transportation. It also offers personal care and nursing services to eligible veterans. According to surveyed clients, services like meal preparation and housecleaning have been especially helpful in allowing them to remain at home.
Across Canada: CARE (Caregiver's Aspirations Realities and Expectations) is a tool being piloted by some homecare providers across Canada. It is used to assess the needs of caregivers in a homecare setting and has helped providers better understand caregiver needs.
Alberta: In Red Deer, the Partnering for Patients home care program is aligned with primary care. It assigns home care case managers to work in hospital ER departments to assess patients, determining the best care path for the patient. Working with hospital staff, the case managers plan in order to ensure that the best course of action is taken for each patient.
Ontario: Rouge Valley Health System's Transitional Restorative Care Program helps patients prepare to return home from the hospital through physical and occupational therapy, relieving pressures on Alternate Level Care (ALC) and long-term care facilities.
Ontario: Ontario's CCACs have started using the Client Health Related Information System (CHRIS), a web-based client management system that includes case management, service provisioning, reporting, and financial management. By combining resource planning and client management, it minimizes confusion and inefficiencies.
Many of these practices have been recognized by CARP as promising efforts that may be transferable. While one size does not fit all, governments can look to these practices in reshaping their visions for helping Canadians age at home.
The recent Ontario budget attempts to provide some structure in moving forward on some best practices. The province will be reducing the rate of growth of spending in healthcare while enhancing community-based care to treat patients in alternative settings (non-profit clinics or at home), and by moving to patient-centred funding models. These are positive steps towards an enhanced and effective homecare system.
CARP calls for a new vision for aging at home that addresses the diversity of needs and challenges that Canadians may experience that also contributes towards building a sustainable healthcare system. CARP's new vision of aging at home requires a commitment to sustainable funding and standards for an integrated system of continuing care that meets the variety of needs and challenges of all Canadians as they age.
In honour of the report launch, Susan Eng was invited to write a blog entry.
To learn more about the report, please visit the HCC website and click here to download a full copy of the report itself: "Seniors in Need, Caregivers in Distress"

To read CARP's Backgrounder on Homecare, Click here