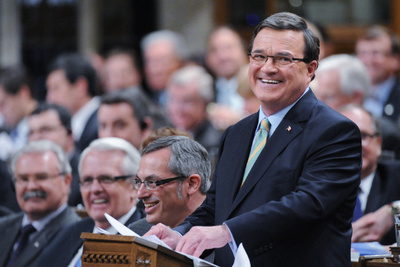 This article was published by The Guelph Mercury on March 31st 2012.  To see this article and other related articles on The Guelph Mercury website, please click here
With the 2012 federal budget, dubbed "Economic Action Plan 2012," we can finally put to bed the notion that Stephen Harper's Conservatives are prudent fiscal managers.
They're not.
With this budget, Finance Minister Jim Flaherty claims a savings of $5.2 billion. There's no doubt reducing costs in order to bring down our deficit is the right thing to do. No one thinks that if we keep spending we will return to balanced budgets, as if someone has a magic wand. We do, however, have important decisions to make about how we should cut spending.
Flaherty thought it wise to begin by increasing the eligibility age for old age security to age 67 from 65, effective in 2029.
Yet, when we look at the actual costs of old age security, we see it accounts for very little of the gross domestic product, sitting at less than three per cent.
Susan Eng, vice-president of the Canadian Association of Retired People, noted that her members, most of whom will not be affected by this change, were very disappointed that the government chose to address perceived inefficiencies by attacking a program that helps some of Canada's most vulnerable people.
"Extending support for the very vulnerable — those already on government support programs — is welcome but should be extended to all those in need" Eng said in a news release.
Flaherty then turned his knife on environmental review processes.
Enbridge, a large Canadian multinational oil firm, is trying to push a pipeline through some of British Columbia's most pristine forests, looking to get oil to the West Coast in order to ship it to Asia. No one doubts the economic benefits to such a project, but at what cost?
We can all remember the oil spill off in the Gulf of Mexico just a few short years ago. Do we really want to risk a similar catastrophe here in Canada? By shortening the review process, this government gambles our forests in exchange for a quick penny.
Where could this government have gone instead?
In recent weeks, there has been much ado about the softening of words from Minister of Defence Peter MacKay over the purchase of F-35 fighter jets. It's been revealed that this plane, a key component of the Conservatives' 2011 election campaign, does not meet defence department specifications, ironically enough, specifications written with the F-35 in mind. Parliamentary budget officer Kevin Page, whose department operates at arm's length from government, has suggested that the price tag of 65 planes is set to reach $30 billion.
And yet, in this budget, there was no mention of our commitment to purchasing a plane that won't work as a part of a rigged single source contract, to the tune of $30 billion.
The omnibus crime bill, passed at a time when Canada's crime rate has, in recent years, fallen dramatically to the lowest levels in four decades, commits Canadian taxpayers to building prisons it doesn't need.
The Canadian Bar Association has criticized the approach taken by the Conservative government because it spends a lot of money and simply doesn't work.
"Criminal law should be based on the most effective policies and best use of public resources" wrote Eric Gottardi, vice-chair of the bar association's national criminal justice section. The Conservative government refuses to release the cost of implementation, though the John Howard Society of Manitoba estimates it will cost provincial and federal taxpayers $2 billion per year. That's a lot to pay for a wrong-headed approach to crime policy.
If the Conservative government had really wanted to find savings, it could have looked at its own costly policies, and tempered them in light of the need for austerity.
Unfortunately, they did not, leading newly elected NDP leader and leader of the official Opposition, Thomas Mulcair, to respond to the budget thusly: "In the long term, the continuation of these Conservative policies will leave the greatest economic, ecological and social debt in our history in the backpacks of future generations."
How sad is it that our children will be left mourning the death of their future long after we've finished mourning the death of the penny?
Peter Thurley was the NDP candidate in Kitchener Centre in last May's federal election.