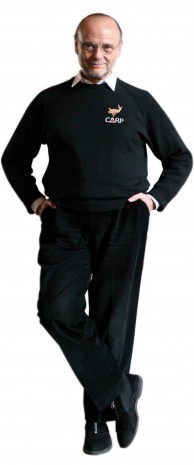 The Etobicoke Chapter of CARP invites all local members and prospective members to join us for our inaugural general meeting.
Date: Wednesday April 18th, 2012
Time: 7PM to 9PM.
Doors open at 6:30 for coffee, tea and sponsors' Zoomer-information- pavilion
Location: Silverthorn Collegiate Institute (Main Auditorium)  291 Mill Rd. Etobicoke  Click for Map
Agenda: CARP President and CEO of ZoomerMedia Limited, Moses Znaimer, will be our featured presenter and will host a Q & A session on CARP's ABC's (Advocacy, Benefits, Community) and Zoomer Magazine.
Also on the agenda, CARP Vice President, Advocacy – Susan Eng will discuss CARP's advocacy successes and plans for the remainder of 2012 and beyond.
Etobicoke Centre MPP, Donna Cansfield will bring us the latest from Queen's Park and MP Ted Opitz from Ottawa on issues important to CARP members.
Trustee Chris Glover from the TDSB will report on programs available in to the local community, and local MPP Laurel Broten, the Minister of Education and Minister Responsible for Women's Issues will share the Gov't plans for keeping older women (who are most at risk) out of poverty.
Entertainment will be provided by the Etobicoke Philharmonic Orchestra.
Light refreshments will be served.
Over the last several months, a number of local volunteers have stepped forward to form an interim board of directors.  We hope you'll come out and support our Chapter and consider getting involved yourself.
Please RSVP to let us know that you plan on attending.
Email: [email protected] Seating is limited, and members will be seated on a first come basis.