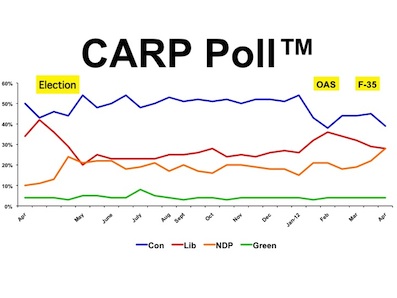 KEY FINDINGS
CARP Post-Budget Poll Report
April 20, 2012
KEY FINDINGS
Strong majorities of members disagree with both the budget overall and the raising of the age of eligibility for OAS, and twice as many will vote against the government as will vote for it because of these issues.
The majority agree there is no good reason to change OAS and that the government's promise to reimburse the provinces for the missing funds is not  a good idea, primarily because OAS is seen as a pension, not a government payout and there is no taste for applying for what is seen as 'welfare'. Reducing the claw back limit from $69,000 is seen as a better idea than raising the eligibility age. Those who take a position on the schedule of the age change say it is appropriate.
Few have heard of the Third Quarter or TIOW programs, but those who have think them effective. There is strong agreement with the government plan to require federally regulated industries to insure their long term disability plans.
Military budget cuts and government personnel cuts are met with approval.
The vast majority agree with the Ontario budget provision requiring wealthy seniors to pay more for their prescription drugs.
Close to one half of members would apply for a home renovation tax credit, half say it would allow them to stay at home and out of care longer and the majority agree such a tax credit is a worthwhile budgetary expenditure.
Close to one half of members will watch at least some of the Stanley Cup playoffs, and just more than one tenth will watch "every game they can".
Conservative and Liberal support is down recently, the Conservatives  we know because of robocalls and the F-35, and the Liberals we suspect because of Tom Mulcair. The NDP are up sharply in voter preference.
To download a full copy of the report, please click here.

TCPTG12345