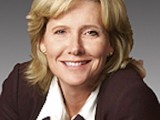 Dear CARP Members,
I received some very exciting news just recently. My son called from Calgary to tell me I'm going to be a grandmother later this year. This was a much anticipated announcement because Kevin and Paige have dreamed of starting a family ever since they got married two years ago.
The next day I spoke with my parents, perhaps looking for guidance on my new role. They're currently celebrating 55 years of marriage and they helped shape not only my choices but those of their three grandsons.   I've learned over time if there is any one group of people in Ontario that most deserves and has earned our respect it's our seniors. They worked hard, raised families, ran businesses and poured their hearts and souls into building a better province.
As a society, we have a responsibility to make sure that those same individuals who unselfishly gave so much of themselves for their children and grandchildren will be taken care of and treated with respect in their twilight years.
In fact, I believe it's our duty. Our parents, grandparents and elderly friends should have the right to make informed choices about their care and accommodation. They should have the right to live in a safe, comfortable environment and be treated with dignity.
That is why our government created the Retirement Homes Act. For the first time in Ontario, seniors choosing to live in a retirement home will have stronger protection under provincial legislation and have the respect they deserve upheld by law.
We did this because we care – about a better province, and, even more fundamentally, about other people. We're not alone in this belief. In fact, a lot of people worked side by side to help craft and shape this legislation with us, including retirement home operators and advocacy groups like CARP and the Advocacy Centre for the Elderly.
Working together is one of those distinct qualities that makes Ontario such a great place to live and work and raise families. That cooperative spirit puts us all on the same page when it comes to the care and treatment of vulnerable seniors. We all want to make sure they are safe, cared for, and comfortable.
We know that the vast majority of retirement home operators do a wonderful job in caring for our parents and grandparents. It's the bad apples we're after. And we are serious about identifying and cleaning up the industry. If operators don't comply with the rules, they will be fined, and in the most serious cases shut down.
Through our legislation, we've set up a Retirement Homes Regulatory Authority to carry out that work. The RHRA is now accepting applications from Ontario retirement homes and will charge a small fee for the new license. The costs of inspections and enforcement are a small price to pay to maintain the safety, comfort and dignity of their residents.
To further protect our seniors, the RHRA has a toll free number that residents, family members and staff can call to make a complaint or raise a concern. The inspectors will follow through immediately on calls related to abuse or risk of harm. That number is 1-855-ASK-RHRA (275-7472).
As a grandmother in training and the daughter of two exceptional seniors, I am very grateful for all the opportunities, support and access to good education and quality health care that my sons and I have received over the years.
It's now our turn to give back and protect those seniors whose hard work and sacrifice helped build the best province in the greatest country in the world.
Linda Jeffrey is the Ontario Minister Responsible for Seniors. For more information on
The Retirement Homes Act, go to www.ontarioseniors.ca. The Retirement Homes Regulatory Authority's website is www.rhra.ca.