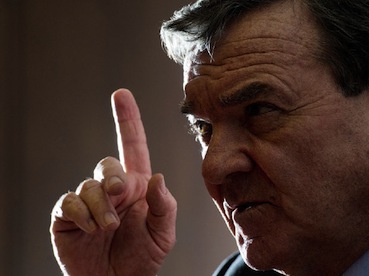 The federal government and most of the provinces and territories are currently working together in a renewed attempt to create a common securities regulator that could see the provinces outsource the administration of their securities regulations to Ottawa.
This article was published by The Financial Post on April 26th 2012.  To see this article and other related articles on Financial Post website, please click here
During a meeting with the editorial board Friday, Finance Minister Jim Flaherty said there are ongoing discussions about constructing a federal framework "within the next year or so" and also confirmed "a delegated arrangement would be likely if we're successful."
According to sources familiar with the discussions, the new organization to replace Canada's patchwork of 13 regional market watchdogs could be similar to the way the provinces handle law enforcement, which like securities regulation, is constitutionally their responsibility. All but three provinces – Ontario, Quebec and Newfoundland and Labrador – contract out their provincial law enforcement duties to the Royal Canadian Mounted Police, the national police force.
Mr. Flaherty told the Post "there is a critical mass of support" across the provinces and territories – with the exception of Quebec – to try to devise a national securities regulator to oversee the country's capital markets within the parameters set out by the Supreme Court of Canada in its landmark ruling last December.
"This is not an indefinite project," he said he told the provinces. "If we're going to do it, let's be grown up about it. Let's sit around the table and figure out what the provinces will do and figure out what they'll delegate to us."
Officials from the Finance department met earlier this week with representatives from the provinces and territories who have reaffirmed their interest in working on a co-operative basis toward a common regulator. At the same time, Mr. Flaherty has told his provincial finance counterparts of Ottawa's willingness to salvage the time and effort invested during the past three decades into trying to create the elusive securities agency.
"I'm not pessimistic about it and I'm not optimistic about it either," Mr. Flaherty explained. "I told them that if we're going to get on with this, let's get on with this because I don't want it to go on forever."
In the March federal budget, Ottawa underscored that it was not abandoning its 2010 plan to create federal legislation for a national securities regulator despite a ruling from the high court that prohibited the federal government from proceeding with its plan as an unconstitutional intrusion on provincial powers.
However, the ruling said it would be possible for both levels of government to seek "common ground" and share oversight of securities, with the provinces able to look after the day-to-day aspects of the industry and the federal government would oversee systemic risk.
A "cooperative approach that permits a scheme that recognizes the essentially provincial nature of securities regulation while allowing Parliament to deal with genuinely national concerns remains available," declared the high court's 64-page ruling.
Most provinces, apart from Ontario, have strenuously resisted Ottawa's attempts to create a federally constituted national securities regulator and filed submissions to that effect with the high court.
"I was quite frankly disappointed with the Supreme Court's decision," Mr. Flaherty said, adding the federal government is "not about to give up because there is a willingness among a critical mass of the provinces to try some more."
In fact, a growing number of provinces have softened their opposition since the Supreme Court ruled in their favour.
According to the finance minister, British Columbia, most of the Atlantic provinces and the territories have joined Ontario in support of the renewed attempts to devise a new model that will not infringe on the powers of the provinces and still allow for a federal framework. Mr. Flaherty also said the new Conservative government in Alberta led by Alison Redford has expressed a willingness to co-operate in consultations, which the previous government had refused to do.
Quebec remains vehemently opposed to a national regulator but may find itself forced to deal with Ottawa given that the Supreme Court has ruled that the federal government is responsible for systemic risk and the Montreal Exchange trades exclusively in derivatives.
Mr. Flaherty said Ottawa is forging ahead without Quebec, but added the federal government would "certainly be open" to working with the province "to make a national securities scheme work."
There have been numerous attempts since the 1960s to create a national regulator in Canada. Proponents complain that the current system of 13 provincial and territorial regulators is unwieldy and too costly for companies and investors.