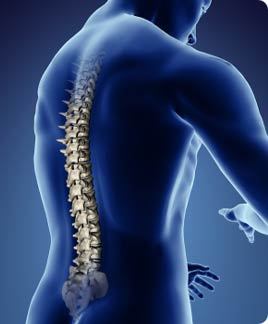 When a patient of mine visited me recently (a lovely 74-year old-woman), she wanted to know if a special procedure that her doctors were prepared to do called vertebroplasty, could fix her pain. She was suffering from severe osteoporosis and her back bones (called vertebrae) were weak. A couple of those had crushed when she got the flu and into serious sneezing spells. So, I had to search the literature to be able to give her an appropriate answer.
This is what I found from a paper published on August 18, 2009 by Andrew Scully in the Medical Post, a Canadian medical newspaper that goes to every physician in the country: Vertebroplasty can be done on an outpatient basis for painful vertebral compression fractures. This procedure has been widely adopted by radiologists based on early clinical data. It involves the injection of bone cement into the collapsed vertebra under imaging guidance and local anesthetic, with the patient sedated but conscious. Observational studies (where you look at patients with pain, and check them out before and after the procedure), had shown that the procedure results in immediate and sustained reduction in pain. On the basis of these data vertebroplasty has become readily available with 27 centres in Canada, almost in every province.
But two trials published in the Aug. 6, 2009 New England Journal of Medicine suggest the pain relief may simply be a placebo effect or due to the use of local anesthetic or needles, rather than the injection of bone cement itself. They researchers studied two groups of patients, those who received the true procedure and those who received a "sham" procedure.
Both groups of patients received conscious sedation, injection of local anesthetic into their back and the doctors even allowed the distinctive odour of polymethylmethacrylate cement to permeate the room, and provided additional cues such as pressure on the patient's back or the actual insertion of the vertebroplasty needle, but only one group got injection of bone cement. In one study, researchers led by Dr. David Kallmes, a professor of radiology at the Mayo Clinic in Rochester, Minn., split in two groups 131 patients and followed them for one month, finding no significant differences between vertebroplasty and the sham group in regards to functionality or average pain intensity during the preceding 24 hours.
Notably, both groups had improved immediately in disability and pain scores after the intervention. In the other study, Dr. Rachelle Buchbinder, director of clinical epidemiology at Monash University in Melbourne, Australia, gathered six-month followup data on 71 patients, finding similar reductions in pain scores in each group (real vertebroplasty and sham group).
Andrew Scully, added: Dr. Andrew Leung, an assistant professor of radiology at the University of Western Ontario and an interventional neuroradiologist at the London Health Sciences Centre, had seen the Mayo study presented at a meeting of the World Federation of Interventional Therapeutic Neuroradiology, and commented: "Everybody at the meeting was just shocked". Dr. Leung explained that the basic question of whether cement injection was any better than a sham procedure had remained unanswered for years, while radiologists and surgeons debated the merits of vertebroplasty and a more complex and expensive procedure called kyphoplasty. Kyphoplasty uses a balloon to restore the height of the vertebra and create a cavity for injection of cement, and has shown similar reductions in pain to vertebroplasty, but has yet to be subjected to a sham-controlled trial.
"What really is helping people with their pain? I think it's hard to attribute it all to a placebo effect, but something seems to be working," Dr. Leung said. "Maybe it's just putting freezing into the tissues of the back. Or maybe it's simply putting a needle into somebody's back, like acupuncture. If that's all it takes to help people, maybe that's what we should be doing," he said, noting the injection of cement carries about a 1% risk of major complication such as infection or damage to the spinal cord. However, Dr. Leung said that while those questions are being sorted out, vertebroplasty, rightly or wrongly, has become the accepted standard of care, as it is simple and can be done on outpatient basis.
Dr. Peter Munk, director of musculoskeletal radiology at Vancouver General Hospital, wrote. "Vertebroplasty is here to stay, but now the time has arrived to determine better which patients benefit the most and in what circumstances."
He and Dr. Mark Baerlocher, a fifth-year resident in the department of medical imaging at the University of Toronto, noted that the conclusions of the studies might have been quite different if more patients had participated, particularly those with more serious pain or those with cancer bone pain.  Dr. Baerlocher, who was part of a study that showed that funding and resource issues were making access to the procedure in Canada problematic, was very worried that governments and insurers might put too much weight on these two studies in their decision-making and "lead to tens of thousands of patients being denied the treatment".
I searched further and this is what I found. The North American Spine Society (NASS) reviewed the above studies carefully and suggested that the procedure can not be dismissed as ineffective as many patients have been seen at the bedside with dramatic pain relief, often within hours of the intervention with bed-bound elderly person who get the procedure and become nearly pain free and ambulatory. Another study on 1500 patients was presented at the Society of Interventional Radiology's 35th Annual Scientific Meeting in Tampa, Fla. In March 2010, with very positive results, particularly in those with multiple myeloma, a type of bone cancer. John Hopkins Health Alert stated that for now, based on the New England Journal of Medicine studies, the American Academy of Orthopaedic Surgeons has issued guidelines recommending against the use of vertebroplasty.
In other words, the jury is still out on the value of vertebroplasty. However, since osteoporosis is a common problem in our golden years, painful vertebral fractures are something that some of us may have to face. Talk with your doctor about your particular back problem and weigh all the options before deciding which treatment is best for you Better information allows us as consumers and patients to seek proper answers from our doctors regarding what to expect and possible alternatives if vertebroplasty fail.
Angela Mailis Gagnon, MD, MSc, FRCPC(PhysMed)
Director, Comprehensive Pain Program,
Senior Investigator, Krembil Neuroscience Centre
Toronto Western Hospital,
Chair ACTION Ontario www.actionontario.ca
 www.drangelamailis.com