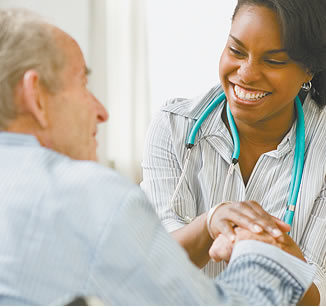 May 25, 2012 – Home and community care in Canada is something of a mystery. We know that home care is up to 75 percent more cost effective than institutional care and that most Canadians prefer aging at home rather than in institutions. However, there has been a critical absence of data on the broader economics of home care and caregiving as well as on the implications of substituting current levels of care for more home and community based care.
A new study released jointly by the Victorian Order of Nurses (VON) and the Conference Board of Canada (CBoC) attempts to fill these gaps in information. The report, titled Home and Community Care in Canada: An Economic Footprint, estimates the economic footprint of home and community care in Canada, highlighting the implications of caregiving employees for businesses, and shedding light on the potential spending implications of shifting some care from institutions to homes.
The Cost of Home Care
According to the report – and as CARP Polls have demonstrated in the past – demand for home and community care is expected to grow dramatically as the population ages. Canadians will both want and need homecare. As a result, the study argues that planning for the future of home and community based care requires an understanding of its current economic footprint.
The report estimates that spending on home and community care in 2010 ranged from $8.9 billion to $10.5 billion, accounting for between 4.6 and 5.5 percent of total health spending in Canada and reaching 600,000 seniors. But, as home and community based care is not a part of the Canada Health Act, a significant portion of that cost is borne privately. Between 22 and 27 percent of the total estimated cost of home care in Canada was paid by private sources.
Informal Caregivers are the Backbone of Homecare
The home and community care sector, according to the report, relies heavily on volunteer efforts and unpaid care, which raises concerns about the sustainability of the sector going forward. As CARP has noted in our advocacy on the issue, informal caregivers are often at risk of diminishing personal health and financial well-being due to the hours spent caring for others. Current estimates show that informal caregivers provide 1.5 billion hours of unpaid home care support each year. This is 10 times larger than the number of paid hours of care offered for home health, home support, and community care.
In addition to the personal costs, relying heavily on caregivers to deliver home care comes with far reaching implications. The report estimates the cost to Canadian businesses was over $1.28 billion in 2007 in lost productivity as a result of caregivers missing full days of work, missing hours of work, or even quitting or losing their jobs. Caregivers may currently be the front line of home care, but the personal and economic costs are too high to ignore.
We Need More Home and Community Care
Canada's current homecare landscape is a patchwork of policies and funding. Over 40% of CARP members say that they would not know where to get homecare if they needed it.
It's no wonder, then, that the report notes that there are opportunities to address key health system challenges by substituting home and community care services for acute or long-term services. Affirming CARP's advocacy on home care, the report notes that up to 50 percent of people on residential long-term care lists could cost-effectively age at home if services were available.
Unfortunately, the report shows that the opposite is occurring. With limited home and community care options, patients with long-term chronic conditions often end up in hospitals when home supports would be more appropriate, more preferred, and more cost effective. In other words, the current model needs to be flipped; home services should increasingly fill gaps in care rather than continual reliance on acute and institutional care. But, a lot of planning and investing needs to occur for home and community care to become a sustainable reality in Canadian health care.
A New Frontier in Healthcare Delivery
The report recommends further action on gathering evidence of the cost-effectiveness of substituting current services for home and community services. "Health leaders responsible for publicly funded home and community care need to tailor their programs to ensure the appropriate services are delivered and resources are used optimally. Finding the right balance of services, care programs, and financing (within the public system and between public and private sources) will be critical as reliance on home and community care grows."
Community care services and the voluntary sector, on the other hand, are integral to helping individuals remain at home. But, "their contribution is often missed in home care policy discussions, and the lack of data makes it difficult to estimate the magnitude of their impact. Better measurement of and data about the contribution of community care and volunteers is needed to understand the full scope of the home and community care footprint."
The future of home care may depend on a sound understanding of the current economics and of the combination of public and private provision of care, but information and data alone will not delivery efficient and effective home and community care.
CARP recommends that all levels of government coordinate to develop a national homecare strategy that establishes national standards of care, an integrated model of continuing care, by:
·        Promoting an integrated system of continuing care delivery for older Canadians;
·        Developing a homecare navigation system with single entry-point/client centred approach;
·        Guaranteeing a basic level of homecare services across Canada;
·        Developing national homecare standards, to be adopted by all provinces;
·        Integrating health, homecare, social, and housing services to ensure that Canadians are receiving the right supports to age at home, by developing a national model for integrated continuing care;
·        And providing sustainable funding.
There may be gaps in our knowledge of Canadian home care, but we can be sure that demand will grow and that everyone benefits from a shift towards cost-effective home and community based care.
Recommended Reading:
Read Home and Community Care in Canada: An Economic Footprint
Read CARP's Brief on A New Vision for Aging at Home