Information posted July 5th, 2012
19 Years. Yes that's how long your CARP Chapter has been serving the needs of our members in Halton Region. In celebration of a very successful 19th year over 100 members and their friends joined us for our Annual General Meeting on June 26th.
Pictured below members and their friends listen intently to the presentations.
Doors opened at 6.00pm with light refreshments available
while Aidan Purnell (www.purnellmusic.com) had toes tapping and fingers snapping as he entertained us with his easy listening music.
AGM Sponsors
We were very pleased with the support from the many local businesses and organizations that sponsored our evening. All had displays where representatives were available to answer questions and provide additional information. With the main meeting scheduled to begin at 7.00pm we were very pleased to see so many attendees taking advantage of the opportunity to chat with our sponsors.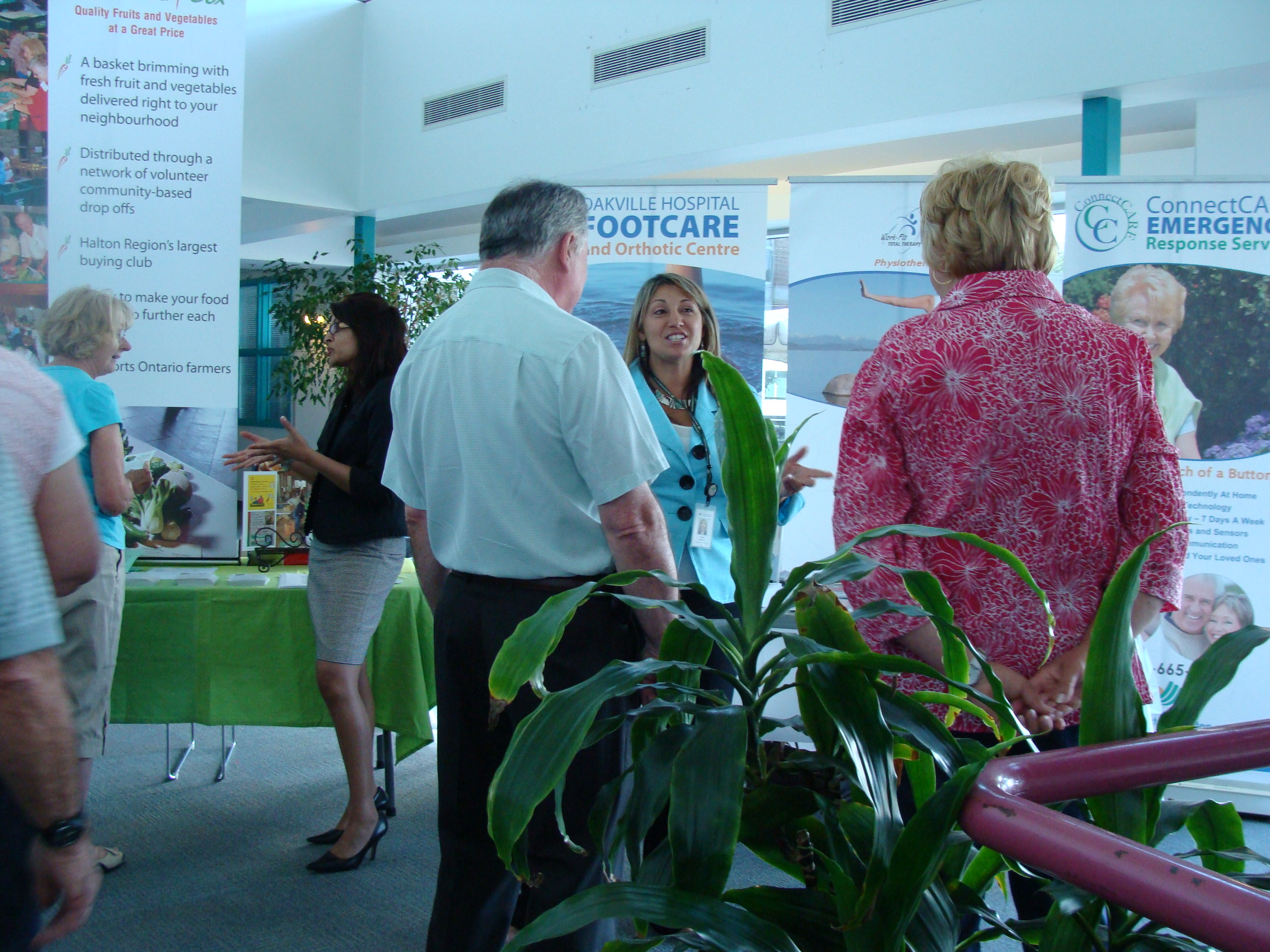 Tom Carrothers, our Chapter Chairperson, thanked all of our sponsors and they all took the opportunity to address the meeting.
You will find a list of our sponsors below with links to their websites.
We encourage everyone to support our sponsors as they all provide products and services that are of interest to the seniors demographic.
A number of our sponsors commented on the success of our meeting. These include:
"It was our pleasure to participate. I'm glad you had a successful show!" The McLennan Group Insurance Inc.
"Revera looks forward to working with CARP to serve as a resource for Halton's seniors and their families." Revera Living
"I would love to become more involved so please let me know of any other opportunities. Thank-you again! Yours in good health," We Care Home Health Services
"The event was good. Please keep us in mind for future events." Age Comfort.com
"The AGM was a great event. Job well done!" Solutions for Aging
"Thank you so much for having Halton Healthcare attend your general meeting yesterday. I found the meeting to show compassion and integrity for our aging population." Halton Healthcare Services
"We were pleased to see the amount of time you allocated for those who attended your AGM to visit the exhibitors' tables. So often at events like this, we only get about 5 minutes." Legacy Private Trust
"Thanks for having us. It's always a great event that yields a lot of great information. It also gives us an opportunity to connect with other organizations in the community." Home Instead Senior Care
AGM Sponsors:
ListenUP Canada – Hearing Aids  www.listenupcanada.com/
Dodsworth and Brown – Funeral Homes www.dbburlington.ca and www.oakviewfuneral.ca
The McLennan Group – Insurance www.themclennangroup.com/carp/index.html
MediChair – Medical Equipment and Supplies www.halton.medichair.com
Sun Life Financial – Wealth Management www.sunlife.ca/
Home Instead Senior Care – In-Home Care www.homeinstead.com/3014
Sunrise of Oakville/Sunrise of Burlington – Assisted Living www.sunriseseniorliving.com
Canadian Christian Tours – Travel www.cctours.ca
Age Comfort – Medical Equipment and Supplies www.agecomfort.com
Legacy Private Trust – Trustee Services www.legacyprivatetrust.com
Revera – Assisted Living www.reveraliving.com
Silver Compass – Later Life Assistance www.silvercompass.ca
Trusted Transitions – Seniors Move Organiser www.trustedtransitions.com
Senior Tours Canada – Travel www.stc.ca
Solutions for Aging – Elder Care Consultants www.solutionsforaging.ca
GEM Health Care Services- In-home and In-hospital Care www.gemhealthcare.com
We Care – In-home Care www.wecare.ca
de Graaf Financial Strategies – Financial Advisor and Broker www.dgfs.ca
Royal LePage – Real Estate www.christopherthomson.com
Story Lines – Memoir and Life Story Writing Programs www.myhousememories.com
Shades of Home – Window Coverings www.shadesofhome.ca
Sutton Group – Real Estate www.haltonrealestate.net
Non-Profit Organizations
We were also pleased to welcome the following non-profit organizations;
Community Care Access Centre (CCAC) Halton www.hnhb.ccac-ont.ca
Halton Fresh Food Box – Quality Fruit and Vegetables www.haltonfreshfoodbox.com
Elder Services Advisory Committee (ESAC) Halton
http://www.halton.ca/cms/one.aspx?portalId=8310&pageId=48037
ConnectCare – Emergency Response Service www.connectcarehalton.ca
Halton Chapter Local Report
Tom Carrothers began the formal part of the evening by welcoming everyone and thanking our sponsors. He then introduced your Chapter volunteers.
These are the people who have organized and arranged a total of 9 informative and interesting presentations over the past year. As a testament to their hard work we have seen attendance at our monthly meetings grow from an average of around 40 members to more than 100, with a peak attendance of about 155.
We are planning for continued growth in the coming year by moving our meetings to a larger room at the Burlington Seniors Centre. In addition we are very excited at the prospect of beginning to hold meetings in Milton. This will make attendance much easier for our members who live in the northern part of Halton Region. Several volunteers have come forward offering to help with this and we will be working with them over the summer months to get things started. We hope to have a meeting organized for July and will announce this in a newsletter and on this webpage.
CARP focusses on Advocacy, Benefits and Community. In addition to strengthening our Community activities as described above we also plan to strengthen our Chapter in Halton in Advocacy and Benefits.
Our main objective is to become a louder and more relevant voice for seniors in Halton.
We would like to hear from you. What do you think we should be doing? What do you think are the major issues for seniors in Halton? Would you be interested in helping in Chapter activities? With more volunteers helping we could achieve more.Please send us an email to [email protected] if you have any ideas on what you would like to see happen or hear about.
We are beginning our Advocacy initiatives by increasing the awareness of Elder Abuse, what it is, how to recognize it and what to do about it. You can find the first of the articles  written by Rose Archer, our Advocacy prime, on this sensitive subject by clicking the following link:
We are also developing local Affinity Partners and will announce these in our newsletters and on this webpage. In this regard we are pleased to announce that Halton HealthCare, who had a display table at our AGM, is offering significant savings to CARP members. They are hospital owned and operated with all net proceeds supporting hospital programs.
They offer three services:
• ConnectCare; Emergency Response Service,
• Work-Fit; Total Therapy and Physiotherapy. Rehabilitation and specialty programs.
• Oakville Hospital Foot Care & Orthotics Centre
To see a full range of their services and programs please click the following link:
Solutions for Aging, who were sponsors at our AGM, are also an Affinity Partner with us and offer significant savings to CARP members.
CARP National Report – Community
Following Tom's address we were pleased to introduce Ross Mayot, CARP's Vice President Community Development.
Ross stressed that the Chapter Network is the backbone of CARP. Chapters bring members together and keep them up to date on CARP National activities. He also talked about the changing demographics in Canada as seniors become a larger part of the population and the societal impact this will have. To ensure that it is a relevant organisation to those coming up behind us CARP welcomes younger members.
Ross also recommended two books written by David Cravit, who is a member of CARP's Board of Directors. "The New Old" which discusses how we are changing the way we age and "Beyond Age Rage" which discusses conflicts between the generations and how these are being solved.
CARP National Report – Advocacy
Our second speaker was Michael Nicin, CARP's Policy Development and Government Relations Officer.
Michael is seen below taking questions from the audience.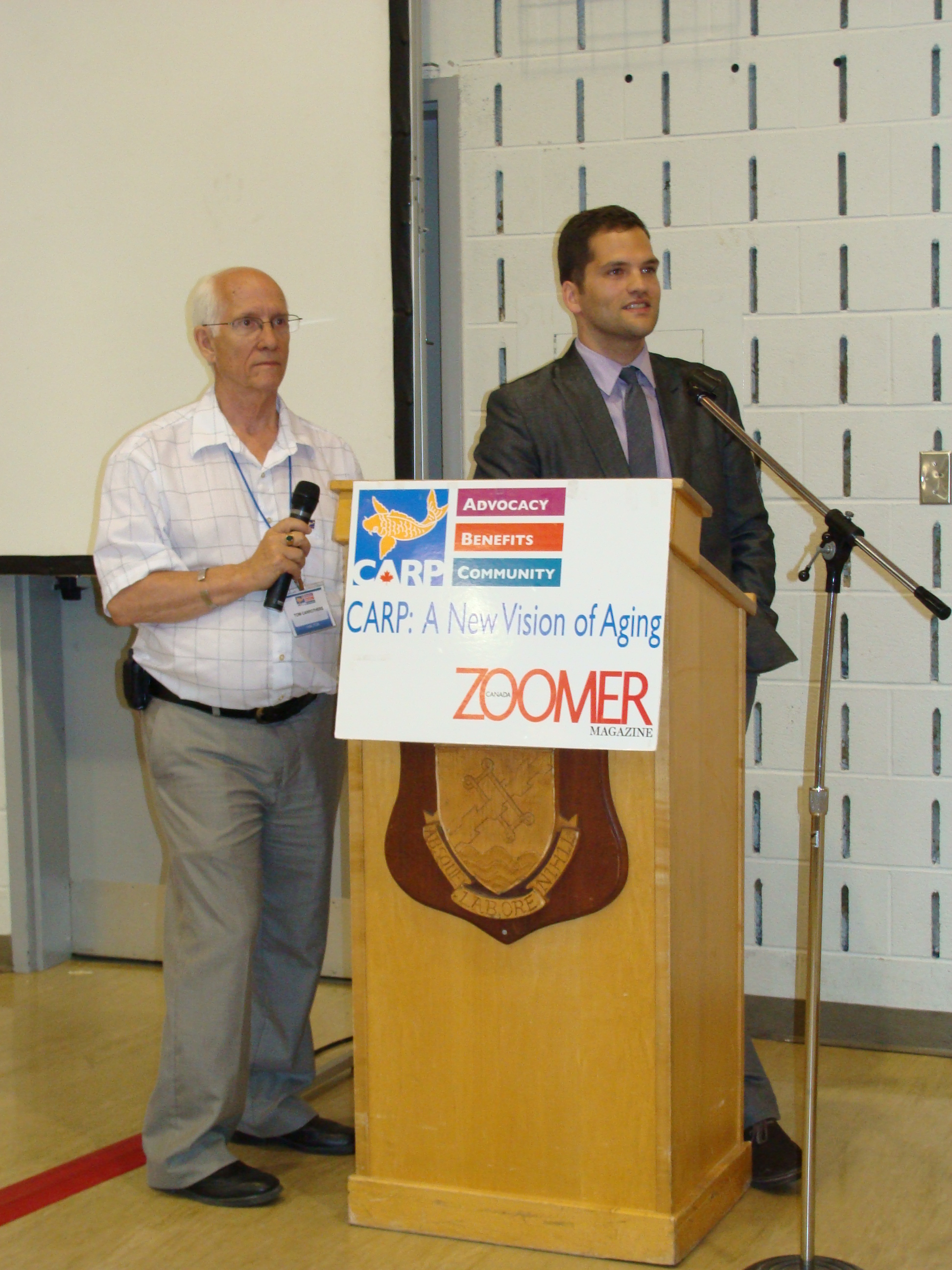 Michael talked about the major issues in advocacy this year and how CARP is making governments at all levels listen. Seniors are recognised as a major, well informed voting bloc. Most significantly seniors are changing the way they vote. They no longer vote for the same party they have voted for in the past. They vote on the issues and how politicians promise to address them. Politicians will be held accountable and must now earn the senior vote.
Michael also pointed out two very important options available through CARP.
Did you know that you can send an email directly to politicians at all levels of government through CARP's website?
Go to  www.carp.ca  and click on E-VOICE in the top right hand side of the page. This is easy to use and your message will be delivered immediately. We've created CARP E-VOICE because we're committed to making your voice heard. We hope you'll use this service often, and we welcome your comments.
CARP regularly surveys members on key issues.
To make sure your views are included please go to  www.imakenews.com/carp/ and sign up for CARPAction OnLine. In the top right hand side of the newsletter, there is a sign-up bar.  Members simply enter their email addresses and hit submit. Survey results are tabulated and help formulate CARP's position and politicians are made aware of what our members think.
If you would like to read Michael's speaking notes please click the following link:
Conclusion of a Very Successful AGM
To bring the meeting to an end Tom thanked everyone for their participation and for making this a very successful evening. He then supervised our prize draws. A lucky winner is seen above collecting her prize.
Our 50/50 draw was very well supported and the winner went home with $119. Draws were then held for prizes donated by:Canadian Christian Tours; Dodsworth and Brown; Legacy Private Trust; ListenUP; Revera; Royal LePage; Sun Life; We Care and CARP National.