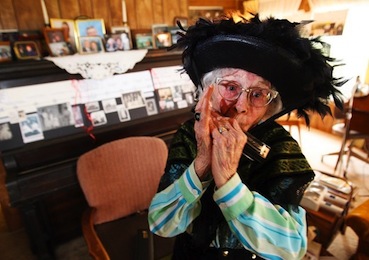 Do you harbour dreams of celebrity but worry it might be too late? Well, don't!  These days, you can become a celebrity at any age if you've got the stuff!
It seems that people can't get enough of Dorothy Custer (born on May 30th 1911).   Custer is not just a centenarian, she is also a comedian and a harmonicist.
Although she has worked as an amateur entertainer since 1926 and has been an active harmonica player since 1923 – it's only recently that her fame has reached unprecedented heights, thanks, in part, to the Internet.
Her appearances on the Jay Leno show have made her an internet legend-in-the-making.  She has at least a million views and is being "favourited" all over Facebook.  Custer has killer timing and her material is comedy gold.   We'll take her over Betty White any day!
Click here to view her fantastic June 20th 2011 appearance on the Jay Leno show!