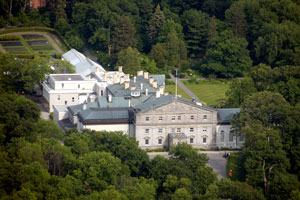 Join members and friends of CARP Ottawa as we tour Rideau Hall, the home of Canada's Governor General David Johnston.
Wed Aug 22 2012 945am at the main door of Rideau Hall, One Sussex Drive, Ottawa.
There is no fee for the tours. Free!
Inside guided tour is approx. 45 minutes.
Outdoor Tour of the residence grounds is at your own pace with guides available throughout the grounds to answer your questions.
Feel free to bring your own picnic lunch/snack to eat on the grounds. There are vending machines and a hot dog cart at the visitors' centre. Please note alcohol is not allowed on the grounds. There are many benches and picnic tables available but on a first come first served basis.
The grounds and residence are completely accessible. Please let us know if you have specific requirements..
There is no parking on the grounds and limited availability on the neighbouring streets. OC Transpo also has nearby stops.
All visitors on inside residence tour have to pass through security and have to leave backpacks etc in the coatroom.
RSVP needed so we can confirm our numbers. Members and friends are all welcome. Please reply email to [email protected] or leave message at 613-755-0055. We will confirm back to you.