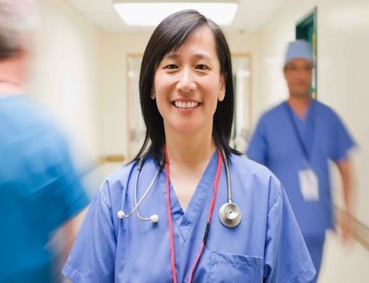 August 10, 2012 – The National Expert Commission of the Canadian Nurses Association (CNA) released a report, A Nursing Call to Action, calling for a fundamental shift in Canada's healthcare system. The report outlines a Plan of Action touches on the need for an evidence-based integrated approach to health care that takes into consideration the changing needs of Canada's demographics, persistence of health inequality, and the cost challenges of meeting future needs. Although many of the plan's recommendations are not new, the report highlights the perspective of nurses and their potential role in advancing healthcare reform with government and other health professionals.
Setting new standards
The plan sets out a goal of ensuring that Canada ranks in the top five nations for five key health outcomes. As simple and important as this goal appears, the Canadian health system has so far largely failed at establishing and usefully measuring health outcomes, which is a leading cause of system fragmentation. Due to their close proximity to key health problems, this plan sees nurses as leaders in collaborating with policy makers, professionals, and researchers to carefully select five health indicators that will lead to the greatest cost efficiencies and health outcomes.
Invest strategically to deliver primary health care to everyone
Looking beyond the current patchwork system, the plan calls for a network of primary health care services to be in place by 2017. The network would include health and social-service workers merged into multi-disciplinary teams rather than the current system's model in which physicians act as gatekeepers. The plan calls on nurses to work with government to implement innovative and practical ideas to improve health care so that it is of "better value" and meets patients' needs. It states that particular attention is needed in palliative care and access to medication, where nurses should be advocates for these two primary care needs.
Consider other important health determinants
Rather than focusing on spending on care for illnesses, the plan emphasizes the need to direct spending on improving other determents of health such as poverty, poor housing, food insecurity and social exclusion. Working with health and social agencies, the plan encourages nurses to take the lead to address public health issues and improve people's overall quality of life, such as assisting people on how to regulate salt content in prepared foods, encouraging physical activity, and supporting older Canadians to live well at home. Although activities such as providing assistance in nutrition and physical activity can be impactful, more may be required to significantly improve other health determinants, such as education policies and targeted social assistance.
The plan focuses on placing resources in areas of most need that will produce the most good. The current health system falls short of ensuring the safety and health of high risk groups such as Aboriginal people, children, seniors, people with disabilities, and visible minorities. It fails to recognize and address the diverse needs of these groups, such as challenges associated with remote Aboriginal communities, cultural diversity of ethnic groups, and complexities of dementia for the aging population. Therefore, the plan calls on nurses to take the lead in bringing together health professionals to develop policy frameworks, resources, and greater research to address the needs of those high risk groups.
Recognizing that health is affected by other policies, the plan also calls on governments to consider the impact of their policies, laws and public programs on health when they plan. Recent federal changes delaying OAS for two years, for example, will hurt people least able to withstand the delay in benefits – people who may already be more vulnerable to health issues.
The plan also calls on nurses to research with other health professionals the impact of public policy on health outcomes and to advocate for other public policies that support health polices. Despite adding a new and credible voice to the healthcare debate, however, the report provides little direction as to how health impacts can be incorporated into other public policy planning.
Growing chorus of voices calling for healthcare reform
CARP is similarly advocating for an integrated continuum of care for all Canadians that understands and treats people beyond basic acute care. Health care can no longer just isolate single diseases or conditions but it needs to take into consideration the whole person, from prevention of disease to acute care and long-term health management.
The recommendations of the CNA report have been heard before, and occasionally, the report is vague on the details of health system transformation. However, the report does give a new perspective and adds another legitimate voice calling for fundamental changes to the health system and healthcare delivery. Nurses are not often perceived as leaders and change-makers within the health system, but that might change as we hear their on-the-ground experience and expertise.
Click here to download the full report