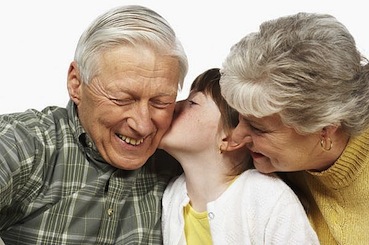 Go ahead of give yourself a few pats on the back if you're a grandparent because this Sunday is National Grandparents day and you should be celebrated.
By way of background, Canadians begun celebrating this holiday in 1995 when motion 273 was put forward to the House of Commons and parliamentarians agreed that:
That, in the opinion of this House, the government should consider designating the second Sunday in September of each year as grandparents day in order to acknowledge their importance to the structure of the family in the nurturing, upbringing and education of children.
The holiday is typically celebrated on the second Sunday in September by Canadians and Americans but it is recognized in a dozen of other countries throughout Europe and Asia.
If you are looking for some fun ideas to help you celebrate grandparent's day, Canadian Living has some great suggestions:
1. A group getaway
A recent survey conducted by Yesawich Pepperdine Brown & Russell reveals that 35 per cent of travelling grandparents brought grandkids along. This trend is increasing in popularity, and for good reason: both grandparents and grandchildren are discovering that intergenerational travel is a fun way to bond.
Trips don't need to be lavish or complicated — a weekend camping getaway will work just as well as a family cruise.
Routes to Learning Canada
Not sure how to match up the travel interests of multiple generations? Check out Routes to Learning Canada, a not-for-profit organization dedicated to providing a learning-based travel experience. Primarily geared to mature adults, they also have intergenerational packages that offer travel opportunities for grandparents with grandchildren.
2. Learn a new skill — together
Ever wanted to learn a new language? Or to master digital photography manipulation? How about putting together a lavish French meal, practising yoga or painting ceramic garden gnomes? All of these skills are taught around the country in continuing education programs as well as by private companies/individuals.
Pick up continuing education calendars from libraries and schools for ideas. Or call a nearby craft shop to see if they offer classes (they're often free, with your only expenses being the actual craft material you use) or can recommend a place that does.
3. Learn something old
During my childhood and much of my adult life, my grandmother supplied our family with a dozen fresh rolls every week. My grandfather, a carpenter by trade, built me a playhouse, a dollhouse and a cedar hope chest — each gift marking a segment of my passage from child to woman.
Focus on the particular skills of your grandparent and then find a way to turn that skill into positive time for both of you. Ask them to pass down their wisdom and to teach you how to build, sew or cook.
4. Revisit an old habit
Favourite places and events can build strong memories, but they sometimes get a little dusty in our fast-paced world. Take some time to remember the things you did together when you were younger and think about how to bring those special moments back.
Maybe you used to fish together on lazy Saturday afternoons, or play dominoes on a Sunday evening. Dig out the fishing pole or dominoes and try to set up a regular play date. Or maybe you shared an old favourite movie — why not pick up popcorn and the movie and arrange a family pajama party?
Again, this doesn't need to be complicated. Pick something simple, fun and doable.
5. Relax together
Being a grandparent often means you're accustomed to giving of yourself without expecting much in return. Grandparents Day gives grandkids a great opportunity to restore a little balance to the giving equation.
Why not book a Grandma/Granddaughter spa package? Pedicures all around, while you sip herbal tea and chat, would be a lovely way to spend an afternoon together. Or check out the library and local bookstore for upcoming author readings. Take your grandmother or grandfather along and get a signed copy of the book as a memento of the event.
Grandparents remain at the top of a list of very special and influential people in our lives; don't let this Grandparents Day go by without an acknowledgement of them.
Click here to read the rest of the article