The first General Membership meeting of CARP Chapter #49 will be held at 2:00pm on Thursday, September 20th at St. Andrew's Residence.   Click for Map
We are pleased to be welcoming guest speaker, Mr. David Cravit.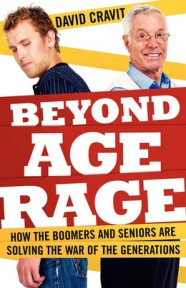 David is a a Boomer Demographics and Marketing expert author of "Beyond Age Rage" and "The New Old".
Our second presenter will be Mr. Ross Mayot, Vice President, Community Development at CARP who will give us a report from the National Office and insight into the success of the CARP Chapter network across Canada.
Anyone wishing to attend is asked to RSVP by Thursday, September 13th to Deana Ross at 519-354-8103, or email [email protected]
New and current members of CARP that live in Chatham-Kent are encouraged to identify Chapter #49 in their membership renewals.
To get involved with the new Chatham-Kent Chapter #49 of CARP or to gather more information, please contact Deana Ross at 519-354-8103.
Additional information about CARP can also be found online at www.carp.ca.
Chatham-Kent, ON (Ch 49)
Carolynn Barko, Chair
519-3548103
[email protected]