CARP is encouraging its over 300,000 members and ZoomerMedia subscribers across Canada and Canadians of every age to celebrate the 40th Anniversary of Team Canada's victory over the Soviet Union on September 28th, and Paul Henderson's famous winning goal, by changing their Facebook profile or Timeline cover picture to an image of Paul Henderson.
Mr. Henderson has been a gentleman ambassador for Canadian sport for these last 40 years, and we think he deserves this national show of thanks.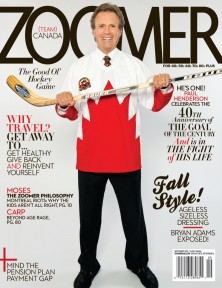 Paul Henderson appears on the cover of September's Zoomer Magazine, highlighting the anniversary of that famous goal, and his ongoing battle with life-threatening cancer. CARP members will remember that famous September hockey battle between the USSR and Canada known as the Summit Series, as a touchstone in their sporting consciousness.
So we call on all Canadians, young and old, to celebrate Paul Henderson.  Thank him for his 40 years in the spotlight, congratulate Team Canada on that victory and our memories of that series, and wish the best for Mr. Henderson in his battle against cancer.
Zoomers are the fastest growing users on social media, including and Facebook & Twitter, and we hope this will go right across the country, starting with the older demographic and catching on with their kids and their grand kids – that they'll share the story of that September series, and how the entire country stopped to watch that game from Moscow, on September 28, 1972.
Visit our Facebook site and join Canadians in changing your Picture to a Picture of Paul.
Click here for a selection of Paul Henderson Photos, or click our Zoomer Magazine Cover, above.