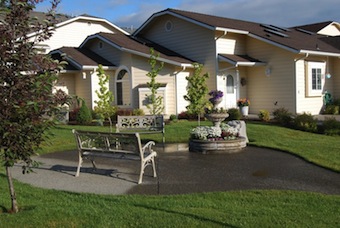 Canada's rapidly aging population has prompted a 38-per-cent increase in the number of seniors living in nursing homes or other collective dwellings over the last decade, according to census figures released Wednesday by Statistics Canada.

The numbers suggested that many trends have been steady since 2001, with nearly four out of five seniors still living alone or with their partners, and the rest living either in a collective, with relatives or non-relatives.
This article was published by Postmedia News on September 19th, 2012.  To see this article and other related articles on The canada.com website, please click here

But the growth in the total amount of Canadians aged 65 and over, from about 3.9 million in 2001 to about 4.9 million in 2011, is causing significant growth in every category, including retirement and nursing homes or hospitals.

"You hear the story that everybody is living longer, healthier lives, and that's still true," Susan Eng, a vice-president for CARP, an advocacy group for Canadian seniors, said in an interview.

"But the point is that you've got a huge demographic now that is moving through this age category, and that means that even if the percentages are not changing, you're going to have a huge increase in numbers of people who are going to be reflecting those trends."

Eng noted that her group was formerly known as the Canadian Association of Retired Persons. But it stopped using that full name because it believes many of its members can no longer afford to retire as living costs and health care expenses rise.

She added that some of the trends her association started to observe before the census figures were released – including an increase in the number of divorces, women living alone, and bankruptcies – reflect some of the challenges that need to be tackled by governments through social services and support.

"All of these are factors contribute to a potential reduction in (seniors') standard of living and retirement and also the possibility of falling into poverty as well," Eng said.

Overall, the number of seniors living in a collective dwelling such as a nursing home has increased from 285,370 in 2001 to 393,150 in 2011. The number of seniors living with relatives or non-relatives in a private dwelling has also increased from 285,370 to 393,150 over the same period.

Meanwhile, the total number of seniors living with a partner has increased to 2.7 million from 2.1 million over the last decade, while those living alone has increased to 1.2 million from one million in the same period.

Adina Lebo, a Toronto resident who is approaching the retirement age, said she feels her own generation is being "pushed out" of jobs, even though they cannot afford to retire.

"What I thought I had in savings and investments decreased to the point that I've got to keep working in a society that is not senior-friendly, right now," said Lebo, 63, who lives by herself and chairs a local chapter of CARP.

She said she would not be able to afford paying thousands of dollars a month in a retirement home, but believes governments must support the introduction of new and more affordable options to allow seniors to share space in existing homes with extra rooms.

The census statistics also revealed a slight increase in the percentage of seniors living as a couple, from 54 to 56 per cent, and a decrease in the percentage of seniors living alone from 27 per cent to 25 per cent over the last decade.

Statistics Canada also noted that women aged 65 and older were twice as likely to live alone than men, mainly because the women had higher life expectancies and older partners and were more likely than men to be widowed.

The census figures revealed that 31.5 per cent of women, aged 65 and over, were living alone, versus 16 per cent of men in this category.

But the agency also noted that the life expectancy for men is growing faster than the life expectancy for women, and as a result, the percentage of women, aged 65 and over, living with a partner is increasing.

Other major trends for seniors were consistent over the past decade, with about 92 per cent of seniors in private households or dwellings and about eight per cent in collective dwellings in 2011.

In comparison, 93 per cent of Canadian seniors lived in private dwellings in 2001 versus about seven per cent who lived in collective dwellings.