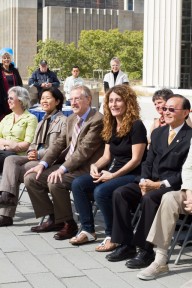 CARP celebrated October 1st, National Seniors Day (and the United Nations, Day of Older Persons) by raising the CARP flag in communities across Canada.  From St. John's in the east to Whiterock-Surrey in the west, over twenty CARP Chapters helped shine a light on the contributions  older Canadians have made and continue to make in their own communities.
In Toronto, CARP President, Moses Znaimer along with several City Councillors joined for the flag raising in Nathan Phillips Square, including Josh Matlow, Chair of the Toronto Senior's Strategy, Adam Vaughan and Doug Ford, who addressed the audiences and recognized the importance of CARP's advocacy work and the contribution of our Chapters in the community.
We took the opportunity to update and re-launch the Age-Friendly policy brief on this ceremonial occasion. CARP also presented attendees with a copy of the Age-Friendly cities pledge which we asked all Councillors and VIPs in attendance to sign. In so doing, they were making a commitment to transform Toronto into a model age friendly city!
Click here to download CARP's Updated Age-Friendly Cities Policy Brief
Also on hand was Senator Art Eggleton, a former Mayor of Toronto and MP representing the area, who detailed the issues that CARP has long advocated for, including increased protection for the poorest of seniors, particularly older, single women; tax benefits for care givers and a national strategy for aging in place.
Worth a Thousand Words…