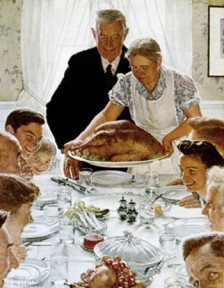 The weather Thanksgiving weekend was cold and wet. Stiff wind out of the west, where the rollers come from. Jamie and I decided not to sail to Niagara, but to drive.
We were going to have Thanksgiving Dinner with my widowed 89 year old father at his swank assisted living residence.  We had been to see him the week before on my boat, a 33 foot motor sailer. That visit had excited and encouraged him, and he was looking forward to our return. I could tell when I phoned about an hour out that he was a little disappointed we weren't on the high seas, as stormy as they were.
When we got up to his room, he was glued to the TV, watching the Steelers get tromped by the Eagles. He waved us distractedly to chairs. I looked over at Jamie. I had warned him dad was deteriorating, not recognizing people, fading in and out, not really there. He said "Just wait a minute until half time. I want to catch up on the scores across the league". Jamie and I looked at each other again.
With a grunt of satisfaction after the half time update, having seen the Browns leading, he slowly levered himself out of his chair. He might be feeble, but he sure could pay attention when he wanted to, to something that interested him. I gave thanks for football, and that he wasn't a hockey fan, faced with a lockout.
We took the slow shuffle to the elevator and down to the dining hall, for the late sitting, at 6 PM. Every little old lady coming back from the first sitting said the same thing to dad. "Oh, it's an awfully big dinner", knowing my father barely ate.
Salad was goat cheese, strawberries, butter lettuce and strawberry vinaigrette. Very inventive and tasty. I saw why Serenity Towers got such high marks for their food. Dad surprised me by eating the whole thing with his shaky fork.
The Thanksgiving Dinner was next, and it was a heaped plate, so it must have been terrifying to those tiny appetites. It was all first class, home made, turkey, stuffing, Brussels sprouts, roasted yams and cranberry sauce. I cleaned my plate, as did Jamie. Dad called petulantly for butter and when he got it, spread it on his mashed potatoes and gummed a bite. That was all he ate of that lovely dinner.
Dessert was real, home made pumpkin pie (a small slice) and Dad inhaled his. I realized he lived on desserts and condiments, which wasn't so bad, as long as he lived on something. After dinner, dad carefully put the extra butters in his shirt pocket. He shuffled over to the buffet and cadged a handful of peanut butters and jams which he asked me to take up to his room. I don't know what he was eating these spreads on, or whether he was just hoarding them, but any interest shown in food is a positive.
Dad's sharpness continued through dinner. He asked Jamie his whole background, right from when he had met him last 30 years ago (which he remembered). He wanted to know our plans for future cruises. He wanted to know why I wear my hair spiky.
I don't know what's got into him, but watching football, fretting over the scores, stealing food, these are all good signs. I drove home to Toronto that night feeling better than I had in ages.