Information posted October 23rd, 2012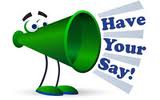 The following is quoted from the Town of Oakville website www.oakville.ca
Have your say on Town of Oakville accessibility initiatives.
Thursday, November 1, 7–8:30 p.m.
Town Hall, Committee Rooms 1 and 2
1225 Trafalgar Road
Want to share your ideas on how to make town services more accessible?
Join us on November 1 and give us your feedback on a variety of topics including recreation programming, transportation, public spaces, communications, employment and customer service.
Town staff is currently working on the town's draft multi-year accessibility plan highlighting priorities for improving accessibility across Oakville. This is your opportunity to share ideas for the town's consideration before the plan is presented to Council for approval in December 2012.
Please register for the meeting by October 29 at 905-845-6601, ext. 3534 or  [email protected]  and let us know what accommodations you may require.